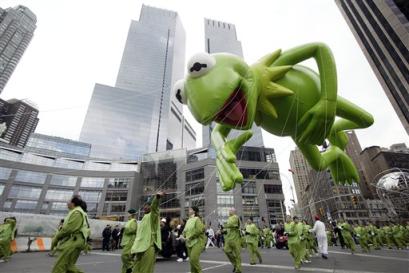 Welcome to the Thanksgiving edition of
The Write Stuff!
Thanksgiving is always rough on a screenwriter. You're usually seeing a lot of friends and family, and while they (candied) yammer on about their accomplishments,
you
have to start all of your sentences with: "We're still waiting to hear on that one..." and "Our agent says we're really close..." and "Grandma, let me explain the WGA strike to you one more time..."
But there is a great deal to be thankful for this year. On Monday, still happy and groggy from a weekend of gorging,
representatives from the WGA and the AMPTP will resume talks.
Ideally, each side will come away happy and we can end this strike. From a personal note, my writing career was right on the verge of kicking into high gear when the strike was announced, and I certainly don't want to lose that upward momentum. And looking at the bigger picture, we're a month away from Christmas here. Who wants to see not just writers but everyone who works in and around the entertainment industry desperately struggling to pay the bills? The grips, the gaffers, the assistants, the dry cleaners...these people are out of work, too.
So send your good vibes to the negotiating table on Monday. And if you think there's nothing you can do, you're wrong. You can electronically sign
this petition
to the AMPTP, which starts: "We, the undersigned, fully support the strike of the Writers Guild of America, and agree with the WGA's stated goals of obtaining just and fair compensation regarding revenues generated through "new media". The petition currently has 57, 695 signatures, which is extremely impressive. Won't you add yours? I also urge you to contact the four major networks, to express support of the writers who create the movies and television shows you love.
ABC
500 South Buena Vista Street
Burbank, CA 91521
(818) 460-7777
FOX
10201 W. Pico Blvd.
Los Angeles, CA 90035
(310) 369-1000
CBS
7800 Beverly Boulevard
Los Angeles, CA 90036
(323) 575-2345
NBC / Universal
100 Universal City Plaza
Universal City, CA 91608
(818) 777-1000
Or, take
Will Forte and Kristen Wiig's advice
, and mail them a pencil! Every little bit helps. Here's hoping the issue is resolved on Monday.
Commenter Steven Diggs asks a WGA strike-related question that might help you aspiring writers:

Will any agents or anybody look at a script right now during the WGA strike? I'm in the process of tightening up my script and want to start getting contacts, but should I just wait out the strike to do this?


In a word, no. In more words -- agents and studio executives really can't look at scripts and new clients right now. Costs are being cut in Hollywood left and right. Agents and managers are tightening their wallets, because they are also losing money with the strike on. Since there is no way of knowing how long it will last, everyone has to be very cautious with their spending and hires. Also, the WGA has made it clear that it intends to ban those writers who cross picket lines from ever joining the Writers Guild, so why risk it? It's hard enough to make contacts and get your script read when business is booming. Be patient, wait it out, use the time to make your script as good as it can possibly be.
And in the meantime, I continue to be thankful for great screenwriting. Check out my recent lists:
My Favorite Screenplays of the Decade
, and
My Favorite Screenplays 1995 - 1999
. Check out James'
Best Adapted Screenplays 1997 - 2007
, and Christopher's
Most Memorable Screenwriter Characters
. See those movies and study those scripts! The
Internet Movie Script Database
is a great place to start.
It's important to look to the past, but great writing is all around this holiday season, too. I couldn't ask for a tighter, leaner, meaner script than the
Joel
and
Ethan Coens
'
No Country for Old Men
(my review is
here
). I just saw the terribly underrated
Bee Movie
, and marveled at how the notorious emotion-o-phobe
Jerry Seinfeld
(with help from
Spike Feresten
,
Barry Marder
, and
Andy Robin
), created such a touching, meaningful, and witty screenplay. I saw the upcoming
Juno
and was knocked out by
Diablo Cody
's sure-to-be-Oscar-nominated script, her first. When such a fresh, original voice bursts out of the Hollywood muck, it's cause for celebration. I can't wait to see what she does next. Don't want to leave the house?
Scott Frank
(
Get Shorty, Out of Sight
) is one of the finest screenwriters currently working, and you owe it to yourself to check out his directorial debut,
The Lookout
, new on DVD. That, my friends, is how you write a thriller.
Until next time, keep on writing, and as always, if you want your question answered, hit me up here or on
my personal site
.