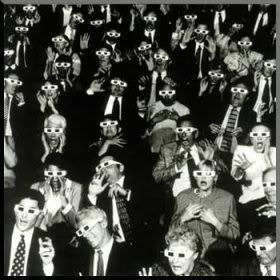 Let's hope that you like 3-D animation, because you're going to be seeing a lot more of it in the next couple of years -- that is, if your local theater can afford it.
Most of the major studios are currently co-financing digital equipment upgrades for theaters around the country, but exhibitors are understandably nervous about how much of the bill they'll have to pick up for this fancy new gimmick once the upgrades are in place. And, of course, what picking up that bill will mean for ticket prices.
According to
a THR report
from the ShoWest convention in Las Vegas, Fox has quietly been telling exhibitors that they shouldn't expect any studio money to cover the cost of 3-D glasses (a rather important part of the whole watching-a-movie-3-D experience), sparking talks about just how much of the financial burden studios ought to shoulder when they create product that requires special equipment for exhibition.
"It would be disappointing if such a promising technology would devolve into that kind of discussion right now," AMC president Gerry Lopex told
THR
. "More unites exhibition and distribution than separates us, and we should focus on that."
But it's a discussion that needs to happen. During this weekend's open of
Monsters vs. Aliens
, a survey of 2-D ticket-buyers found that 38 percent would have preferred to see it in 3-D, but were unable to because of sold-out theaters, or because their local theaters just weren't equipped for 3-D projection. That's a pretty big piece of the market, and one that neither exhibitors nor studios want to lose. The cost of glasses per 3-D movie is estimated at $1 million, which isn't a huge addition to a studio's budget, but it could mean a fair amount of money to an exhibitor -- and which might help them make the decision to
not
book 3-D films. Or, perhaps, to charge even more for tickets to 3-D movies, to cover their additional costs.
The time to figure all this out is now. Dreamworks Animation, who released
Monsters vs. Aliens
, plans to use 3-D for all of its upcoming pictures, and Fox has set a July 1 date for their 3-D
Ice Age: Dawn of the Dinosaurs
. So far, Fox is the only studio reported to have definitely said that they won't pay for glasses, but in the current economic climate, even the studios are pinching their pennies.