When
The Dark Knight
was left off the Oscar lists last year, the cries of injustice were heard loud and far. The Academy is biased. Who did the Weinsteins buy off? How many dirty pictures of AMPAS members does Stephen Daldry possess to get three director nods for three films? How could this have happened? Could it happen again? Well just four months after the gravelly growl heard round the film world, here came the Academy with an announcement.
Ten.
That's right. For the first time since 1943, the Oscars are going to have ten nominations for Best Picture instead of the usual five. "Having 10 Best Picture nominees is going to allow Academy voters to recognize and include some of the fantastic movies that often show up in the other Oscar categories, but have been squeezed out of the race for the top prize," said Academy President Sid Ganis. In other words, no longer will films as lauded as
The Dark Knight
get screwed. Gone are the days that animated films would be discriminated against. At least not those labeled with Pixar. It's the reason that three successful science fiction films are in legitimate contention for a Best Picture nomination this year. Only one of them serves up comparison to
The Dark Knight
though. In the numbers, not your particular preference over which film is a masterpiece of genre filmmaking and which has blue people in it. Put those personal opinions aside for the moment and ask yourself this question: If there were still only five nominees for Best Picture, would
Avatar
have been this year's
Dark Knight
?
At the time of the Oscar nominations last year,
The Dark Knight
was the #2 domestic grossing film of all time with over $530 million in the bank. By the time Feb. 2 rolls around this year,
Avatar
will likely have that crown. Both films, with their facially-scarred villains, were heading into nomination morning with a lot of support behind them from voters.
The Producers', Directors' and Writers' Guilds all nominated it. Christopher Nolan's film lost all three. Speculation has Cameron in the running to potentially win the Producer's and Director's prizes, though Kathryn Bigelow and
The Hurt Locker
could easily take at least one if not both.
Avatar'
s WGA nod should also come with an asterisk since both
Inglourious Basterds
and
Up
were disqualified from consideration.
Each film was amongst the ten nominees from the Broadcast "Film Critics" Association. Neither won. Avatar was nominated for nine BFCA awards while The Dark Knight only had six. But hold the phone. Six of Avatar's nine nominations came in categories that didn't exist in their organization in 2008. Both films shared the three nominations of Picture, Director and Best Action Movie. It was The Dark Knight that was also nominated for Supporting Actor, Best Ensemble and Composer/Score. Avatar got six nominations in newly formed technical categories including Cinematography, Editing, Art Direction, Sound, Visual Effects and Makeup, of which it won the first five. The BFCA members are aware that the blue people were not humans in makeup, right? (Avatar did not make the final seven list for the Oscar in that category.) Add those categories retroactively though. Don't you believe that The Dark Knight would have had its total boosted with their inclusion. In five of those six categories it went on to receive Oscar nominations (winning Sound) and with the BFCA as the populist predictors that they are - that would have given The Dark Knight 11 nods to Avatar's 9.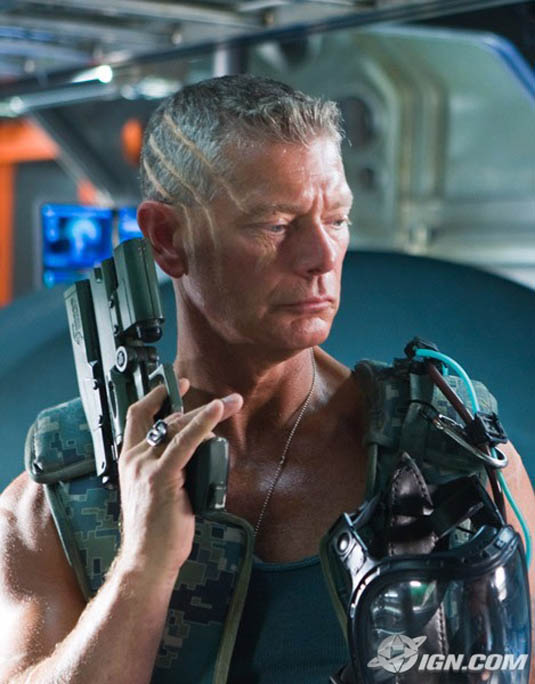 Over to the Golden Globes, the HFPA didn't add any new categories to benefit Avatar. With the old list still intact it still received four nominations to The Dark Knight's one. Two of them were music related, but its Picture & Director nods for Cameron (along with its wins) did trump Knight's solo award for Ledger. Neither film was up for the SAG Ensemble award. At the BAFTAs, The Dark Knight received 9 nominations. Avatar received 8. Each were up for Cinematography, Editing, Music, Production Design, Sound and Visual Effects. The Dark Knight was also up for Supporting Actor (which, naturally, it won) as well as Costume Design and Makeup (& Hair). Avatar got nods for Picture and Director. The Chicago Film Critics Association did nominate Dark Knight for Best Picture & Director (as well as Adapted Screenplay.) Six nominations overall compared to Avatar's two for Cinematography & Score.

And that is where the real difference between the two lies. Even if you take all the accolades for Heath Ledger out of the equation, critic groups were in far greater support for The Dark Knight than for Avatar. Only the New York Film Critics Online came out of the gate with awarding Cameron's film as the Best of '09. It is the only award that Avatar either won or was nominated for in the Top 8 categories from any of the local critic groups. The Dark Knight either won (Austin, Utah), was nominated (Chicago, St. Louis, Detroit, Online Film Critics Society) or finished runner-up (L.A., San Diego) as the Best of '08. Eight mentions for Christopher Nolan as Director and three for his script with brother Jonathan. If you don't already have your pencils out at home, between the BFCA, Globes, Chicago, BAFTA and SAG, The Dark Knight and Avatar were equaled at 23 nominations apiece. 3 nominations for Cameron as Director & Best Film. 2 nominations for Nolan and The Dark Knight

It is about here where those more inclined to just throw out the awards game altogether will begin barking about quality. Whatever all those stuffy critics say - who clearly never acknowledge a good genre film when it jams a pencil through their head - what really is the better film? On Rotten Tomatoes, The Dark Knight is the clear victor with a 94% (based on 269 reviews - 17 negative) to Avatar's 82% (based on 246 reviews - 44 negative). If you think their screening process has let in one too many fanboy critics and prefer the more exclusive (or segregated) Metacritic, Avatar has a slight lead with an overall score of 84 (based on 35 reviews) to The Dark Knight's 82 (based on 39 reviews). Of course, if the common man with a computer is more your thing, then you have the IMDB rankings which currently has The Dark Knight at #9. Of all-time. In just a month's time, Avatar is at #37.

So what is the real answer? Just like last year, Avatar would have been in prime position based on history to be one of the five nominees for Best Picture if such was the case this year. But we thought the same last year until the nominations jumped from The Curious Case of Benjamin Button to Frost/Nixon with no "D" film in sight and The Reader swooping in and ruining everything. Assuming The Hurt Locker, Inglourious Basterds, Precious and Up In The Air would have been the other four nominees, what could have swooped in this time to spoil the Avatar party? The Weinsteins are already represented with Basterds and Nine looks to be dead in a field of ten. Would Invictus have been this year's Frost/Nixon; the fine-enough film that nobody is too terribly excited to be an awards contender? Could it have been a more low-key story limited at the box office like An Education, Crazy Heart or A Serious Man?

Or is the question something simpler and even more superficial? Is it all just a matter of timing? We have all spun stories about the Academy's prediliction for seasonal Alzheimer's, but those numbers don't lie either. Of the last 65 Best Picture nominees, only 10 of them have opened before September.

Crash, Erin Brockovich, Fargo, The Full Monty, Gladiator, Little Miss Sunshine, Moulin Rouge, Saving Private Ryan, Seabiscuit and The Sixth Sense

What happens if Avatar was released over the summer? For that matter, what if Titanic had made its original opening of July back in 1997? Would it still be tied as the leading Oscar-holder? $600 million does have a way of sticking in peoples' minds, but with the increased competition even that would have changed. Maybe it only makes around $530 million. Like The Dark Knight. Hard to play that box office card, unless you are a film that is currently receiving weekly, even daily stories about its march to become the highest grossing film of all time. (Inflation and inflated 3-D ticket sales notwithstanding.) Would The Dark Knight's fortunes have been changed if released in November or December? Or would we then be talking about how its subject matter and themes are too dark for the holiday audiences who would rather live on Pandora than in Gotham City. Even one that looks as pretty as Chicago.


Is Avatar just a make-up for last year's blockbuster snub just as Up would be for WALL-E? With the extra room the Academy can apologize to the populist crowds by also including District 9 and possibly Star Trek. Reparations on a universal scale. When the nominees are announced maybe we will have a feud between the two camps like Jay vs. Conan and Edward vs. Jacob. Maybe if Christopher Nolan kept bragging that it took him four and a half years to make The Dark Knight and how he was waiting for technology to catch up with a project that couldn't be created without it, he would have had a shot at a deserving Oscar.


Maybe if anyone saw the animated Battle For Terra, they would be comparing Avatar more closely to it than to the even less seen Delgo. Not that Terra's tale of a human astronaut stranded on a forest-like planet with peace-loving aliens that he befriends through a spunky female of the species while his warmongering military commander urges for an all-out attack until he finally switches sides has in anyway stolen from Cameron or vice versa. But when a film comes out in the same year that could be played virtually splitscreen alongside Avatar, it only adds a little more light to just how painfully familiar and cliched all the story beats were.

The Avatar die-hards with the short memories will likely just try to sell that Cameron's film is simply superior to The Dark Knight in every respect. Well, poppycock I say with an emphasis off the poppy. Awards and box office are mere crutches for the uninspired to qualify their opinion over another's. We can argue until we're blue in the face and every other part of our body over which films deserve to be nominated and deserve to win, but it is the elements that make up the final product where a film can truly be victorious over another. The rest is just politics and a guessing game that we all get to play once a year. Avatar may indeed win Best Picture, but over time we can debate if The Dark Knight deserves to win the war.