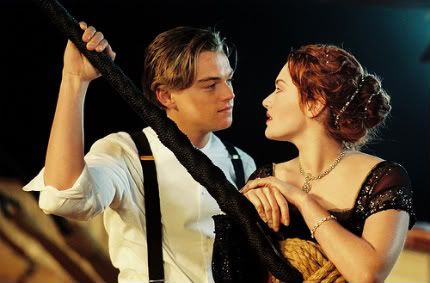 The release of a new Nicholas Sparks movie (
Dear John
) serves as a reminder that audiences love a good cry. It's true -- as much as we enjoy romances where our heroes end with a kiss as they look forward to their bright future, we're even more enamored with romantic movies where the lovers are doomed, doomed, doomed.
Here are seven fine examples of romantic tragedies, films in which the main characters don't get what they want, maybe never will, and no one leaves the theater whistling a happy tune:
Titanic
James Cameron's epic saga may turn into a kick-ass action flick in its last act, but the movie's heart belongs to its heroes, Jack (Leonardo DiCaprio) and Rose (Kate Winslet). Cameron presents a fairly cliched tale of class-difference love with so much elegance, charm and wit that it feels like he's treading new territory. It also helps that his two leads are spectacular actors. In classic romantic tragedy style, we know from the outset that the lovers won't end up together -- yet we root for them anyway.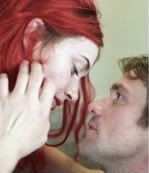 Eternal Sunshine of a Spotless Mind
A rare film that goes in so many unexpected directions that it leaves the audience breathless with tension, delight, and anticipation, Michel Gondry's masterwork is stunning not only for the performance he draws out of Jim Carrey, but for his deft hand at making concrete the nebulous inner worlds of emotion and memory. With Kate Winslet, again, as the object of desire,
Eternal Sunshine
is another film that ends on a melancholy note, but it couldn't have ended any other way. a href="http://www.moviefone.com/movie/gilda/1013671/main">


Gilda
The Charles Vidor classic is considered a benchmark of
film noir
, but it's a romantic tragedy as well. Cleverly skating around the Hays Code by couching its bisexual love triangle in double-talk and symbolism, it tells the story of small-time gambler Johnny Farrell (Glenn Ford), who becomes the hired gun and
very
close friend of an Argentinian casino owner named Ballin Mundson (George Macready). Mundson returns from a trip with a stunning new wife named Gilda (Rita Hayworth) and tasks Johnny with keeping her out of trouble -- unaware that Johnny and Gilda were once lovers.
Gilda
, the movie, is sexy, tense, and unpredictable; Hayworth is magnificent, but Ford is the one to watch here, playing a man unsure of which lover he feels more betrayed by, as he burns with rage and lust.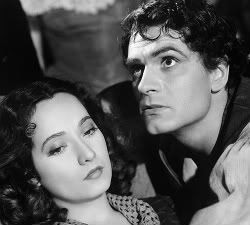 Wuthering Heights
Emily Brontë's only novel has been adapted several times, including a Spanish homage by Luis Bunuel. The most famous is William Wyler's 1939 version starring Laurence Olivier as the brooding, petulant Heathcliff, with Merle Oberon as his foster-sister-slash-true-love, Cathy. Nominated for eight Oscars (it won for Best Cinematography by Gregg Toland), Wyler's take on the gothic Harlequin romance is deeply intimate and psychological. Less successful was the 1992 adaptation starring a pre-
English Patient
pairing of Juliette Binoche and Ralph Fiennes -- Binoche is unconvincing as a Yorkshire lass, while Fiennes does little to make an already difficult-to-like character accessible.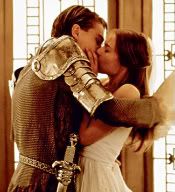 Romeo + Juliet
Baz Luhrmann isn't to everyone's taste, but the man understands romance (indeed, the controversial
Moulin Rouge!
almost made this list). His take on Shakespeare's seminal romantic tragedy is both faithful to the text and outrageous in its execution, his by-the-book lovers (Leonard DiCaprio and Claire Danes) surrounded by inspired casting choices like John Leguizamo as Tybalt and Pete Postlethwaite as Father Laurence. On its release in 1996, Luhrmann was skewered by critics for his use of jittery camera movements and quick edits; viewed with a post
-
Bourne Identity
eye, it's positively placid in its execution.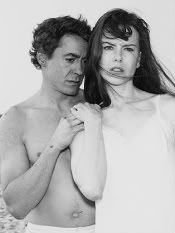 Fur: An Imaginary Portrait of Diane Arbus
An underrated, underseen gem, creating a wholly fictitious story about the real-life photographer,
Fur
stars Nicole Kidman as Arbus, who finds her narrow 1950's housewife world opened up by her friendship with a new neighbor. As Lionel Sweeney, a circus performer who suffers from hypertrichosis, Robert Downey, Jr. manages to turn in a dead-sexy performance while completely covered in thick, brown fur. As should be expected from director Steven Shainberg (
Secretary
), the most erotic set piece in the film is one of its most unusual -- when Lionel asks Diane to shave him, presenting her with a mug of soap and a razor, what follows is positively swoon-worthy, in the weirdest way.
Chinatown
Its script, by Robert Towne, is taught in screenwriting classes as an example of a near-perfect movie. Roman Polanski's ode to Los Angeles, pulp crime fiction, and existential loneliness is deep romantic tragedy, as gumshoe Jake Gittes (Jack Nicholson, never better) gets sucked into an adultery case that turns into much, much more than he bargained for. Towne was at odds with Polanski about the director's choice of an ending, calling it "ghoulishly bleak," with Gittes solving the case but losing just about everything else. But had it ended on a more optimistic note, it just wouldn't be
Chinatown
.