With over 110 features, not to mention short films, panels and all the social gatherings at the annual South by Southwest Film Festival, how does one decide how to make a schedule. In the five days that I will be there, I will be attending at least two panels. One by my friend and colleague, Cinematical's Scott Weinberg, who will be moderating Directing the Dead, a look at the horror genre through the eyes of panelists Quentin Tarantino (Inglourious Basterds), Robert Rodriguez (Sin City), Neil Marshall (The Descent), Matt Reeves (Cloverfield), Ruben Fleischer (Zombieland) and Ti West (The House of the Devil). Personally I will also be taking to moderation when I examine Hyperbole In Film Criticism with not only Mr. Weinberg, but also film critics Drew McWeeny, James Rocchi, Marjorie Baumgarten and Jen Yamato.

Mostly though I will be there for the movies. In-between the camaraderie of my fellow film lovers and more than a few meals at the Alamo Drafthouses, I am looking forward to the likes of major releases such as Kick-Ass (the opening night film) and the feature-length version of SNL's MacGruber and documentaries such as James Franco's Saturday Night, about what goes into the preparation of the legendary sketch show and Steven Soderbergh's tribute to Spalding Gray in And Everything Is Going Fine. That's just the tip of my schedule, though, and I want to help you with yours. Certainly I concur with the positive sentiments offered by the Cinematical staff on SXSW showings of Cyrus, The Freebie, The Runaways, Tucker & Dale vs. Evil and Winter's Bone and echo that they should be seen. But I am going to offer you ten more suggestions to help put you on the road to the best possible fest experience.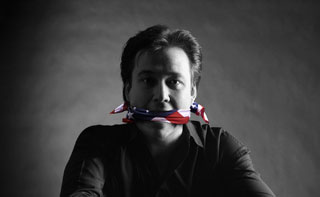 American: The Bill Hicks Story
- There are many films documenting individual lives or specific events in those people's timelines at South by Southwest this year, but it is unlikely you will see one here (or the rest of the year) that feels as complete as Matt Harlock & Paul Thomas' on comedian Bill Hicks. It's an absolute tragedy that a whole generation is growing up without having his voice in the world, especially as good stand-up comics are so few and far between. Hicks quickly evolved into the Lenny Bruce of his time, joining George Carlin as one of the best in the business to blend brilliant comedy with cannon fire directed at social moires and government behavior. Harlock & Thomas' documentary gives viewers more than a taste of his comedy, but also traces his early roots in a baptist household, his days as a teenage comic and his discovery period of hallucinogens and alcohol that almost buried him before he could become the Bill Hicks that we remember from HBO. This is a complete life story narrated by the people that knew him and it's visualized through rare videos, photographs and animation. When on my spiritual retreat (or whatever it was called at Driscoll Catholic High School), the only cassettes I had with me for the bus and at night were of Bill Hicks. Between that and seeing him live in Chicago, I thought I knew who he was then.
American
certainly opened my eyes to more and while I came out the other end even sadder at the loss of Bill Hicks at the young age of 33, this eulogy is most certainly a celebration that deserves to be passed down and hopefully inspire someone to find their own comic voice and pick up the mantle.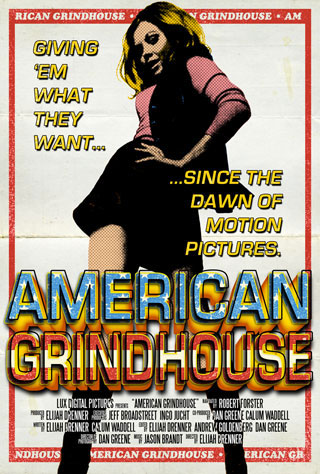 American Grindhouse
- The term Grindhouse got its share of replay in 2007 thanks to the double feature experiment of Robert Rodriguez and Quentin Tarantino. As measured by the box office take only the hardcore film geeks really understood what they were trying to capture. Perhaps they could have been aided by Elijah Drenner's new documentary which digs into the past of exploitation cinema from the disturbing to the mainstream. With a little help from an impressive variety of interview subjects, Drenner skillfully traces the history of the films that helped coin the word for the theaters that played them. Making a great companion piece to last year's examination of the Australian film industry,
Not Quite Hollywood
,
American Grindhouse
is more than just a fun collection of clips. It is a built-in film school that even the most self-proclaimed film buff could learn something from, making it quite a history lesson for the uninitiated.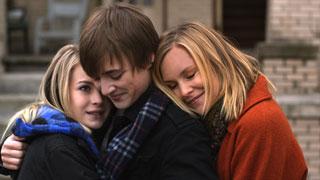 Cherry
- If you take a little of the Duplass brothers'
Cyrus
playing at this festival and mix it with a dash of
Art School Confidential
and
Real Genius
, you might get Jeffrey Fine's
Cherry
, an interesting and often funny coming-of-age inappropriate romantic triangle kinda thing. You know, that old chestnut. Aaron (Kyle Gallner) is an incoming Freshman to an Ivy League college, bright enough for the engineering program but more akin to creating art. In such a class he meets Linda (Laura Allen), a beautiful and flirtatious woman twice his age, who takes to his talent and purity. On a home dinner invite, Aaron encounters Beth (Brittany Robertson), her punkish, foul-mouthed daughter that tells it like it is - especially when the crushes become obvious. Aaron on Linda and Beth on Aaron. Writer/director Fine doesn't treat the situation like a male fantasy, but instead makes Aaron an inexperienced package of integrity. Sex isn't far from his mind, but he's not above turning it off when things just don't fit into the ideal of ideals. There is good work all around here, especially from Gallner and Robertson but also from comic actor Matt Walsh in a more astute role as Aaron's professor and Esai Morales as Linda's cop boyfriend who finds himself sometimes pushing too hard to not be the fourth wheel in this new threesome. Things get a bit haphazard in the final third with Linda & Beth putting themselves in bad situations in the wake of a visit from Aaron's overly shrewish mother, but we are well on board at that point and are hoping for the best for these people.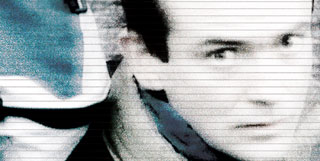 Erasing David
- You think you are being watched living in the United States. Well, the United Kingdom is the third highest surveillance state in the world and it is home to David Bond. As an experiment, David wanted to test the waters and see where his paper footprints say about him. What could bills and purchase habits online provide for the government or any interested party in tracking him down? So for a month he decided to investigate by leaving his life behind and dare a pair of experts to find him.
Erasing David
might begin like a Spurlockian exercise, but the discoveries are far more chilling than the fat and sugar intake of fast food. Despite the stakes being little more than a game between this particular mouse and cats, Bond's film - a real-life
Running Man
for those familiar with Stephen King's (aka Richard Bachman's) original story - still evolves into a thriller of some magnitude as our own paranoia of a superhighway becoming an invisible peeper into our private worlds comes front and center. Many of us still walked into a McDonald's at some point, but we may think twice the next time the convenience of our daily lives might be making it opportune for the many Big Brothers out there to know more than we care about us.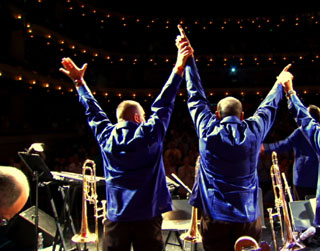 For Once In My Life
- South by Southwest has a great history of introducing documentaries to audiences. Some have even ended up on the shortlist and final lists for Oscar. Of all the ones I have seen so far from this fest, one Oscar will have a hard time avoiding is this film by Jim Bigham and Mark Moormann. We have seen the young hone their passion for music in Rock School and senior citizens in
Young @ Heart
. Now it's the turn of the mentally challenged. The Spirit of Goodwill Band is made up of all varieties of ailments from blindness to Down syndrome and getting to know their daily struggles and triumphs is just a warm-up to hearing them belt out the tunes. Watching a group of schoolchildren look on hesitantly while this band prepares to perform for them and see them slowly feel the beat and appreciate what is taking place before them is as great a moment of musical discovery as you can imagine. By the time they get to their big concert in the end, you will have replaced those school kids and be clamoring for more to clap along with.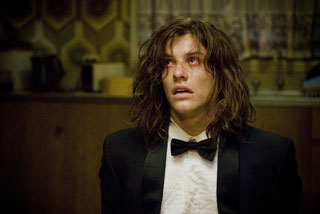 The Loved Ones
- Hardcore horror fans are always trying to sell me on the extreme versions of the tortured captive subgenre, normally coming from somewhere across the pond. Films like
Inside
and
Frontier(s)
may have the requisite gore effect, but were still pretty sloppy productions that were only really notable for just how extreme they were in their bloodletting. Well, those who think I have a pre-set reaction to these types of films can think again, because Sean Byrne's
The Loved Ones
is a genuinely crafty surprise. Brent (Xavier Samuel), with his brooding good looks and devoted girlfriend, should be a relatively happy 17-year-old. But he has been having trouble since his father died in an accident. He is a self-cutter and is even thinking of ending it all on the eve of prom. That is when the real horror begins as he's kidnapped by the father of the shy girl (a striking Robin McLeavy) he politely turned down for the dance. Only Lola isn't exactly that shy and Brent isn't going to be dancing anytime soon. The elements are not entirely unfamiliar. A little
Misery
with a splash of
Saw
wrapped in
Carrie
, but what Byrne does that so many horror filmmakers fail to do is surprise you. Just as you feel you have caught up with where events are headed, a new wrinkle appears. When you're wondering what one seemingly unconnected subplot has to do with the primary ones, Byrne answers your question. The Loved Ones certainly has its bloody moments, but it knows just how much to show to make you squirm and then leaves the rest to the soundtrack and the build-up to the next macabre moment. Horror fans are going to love this, but those who recognize a filmmaking skill to go along with the gore may appreciate it even more.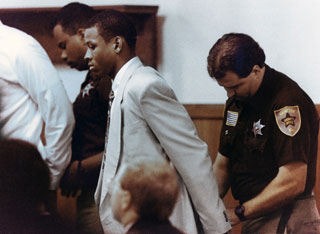 No Crossover: The Trial Of Allen Iverson
- Part of ESPN's 30 for 30 (a very fine collection of sports docs for the network) comes Steve James' contribution to the series. The director of one of the best sports documentary ever,
Hoop Dreams
, goes back to his hometown where NBA star Allen Iverson was once the star high school player and wound up dividing people just as he did his entire career. The infamous 1993 brawl in a bowling alley between blacks and whites which Iverson was involved in turned into another rallying cry for racial injustice. The white justice system was out to get another black man and the black community framed it that way in their unerring support for Iverson. Documentaries like this tend to expose the racial hatred on one side and identify the conspirators responsible. James' film actually debunks some of the more outlandish theories involving not just preemptive hatred but also the recruiters who may have done anything to enlist Iverson's talent. What
No Crossover
becomes is a variation on the tagline of David Mamet's
Oleanna
. "Whatever side you take, you're wrong." A heinous crime was certainly committed, but may have resulted in a harsher penalty. Celebrity status, no matter the age, can turn you into an example but can also grant you a priority exit. You may come out feeling more sympathy for Allen Iverson or it may just reinforce your beliefs in him as just another punk. That's what some of the great documentaries are capable of.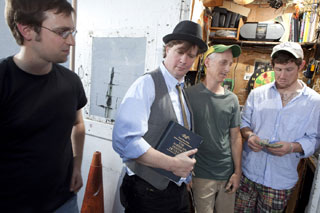 The Parking Lot Movie
- As a commuter in the Windy City (first for college and later for film screenings) I have frequented over the years more than my share of parking lots. Many of them are going the way of the machine now but I am sure we have all had a run-in or two with a live attendant over fees or some other consumer complaint. Some of those people are featured in Meghan Eckman's very engaging documentary, but its focus is squarely on the workers themselves at one Virginia lot and the day-to-day encounters they have in keeping such a thankless job so lively. You need to have fun manning such a claustrophobic pit stop and Eckman equals it for the audience with a joyful (and occasionally brooding) group of part-timers who give you tickets and take your money. This is more than just a real-life
Clerks
. It is a microcosm of the bridge between college and the working class future and as just a commentary on the current economic struggle than any news pundit can make excuses for.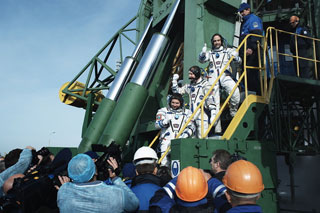 Richard Garriott: Man On A Mission
- Whether it started with
Star Wars, 2001
or
The Right Stuff
, my interest in space travel has never waned over the years. It has to be every boy's dream even for just a fleeting moment in their lives to go up in a rocket and look back down upon the Earth. Weightlessness, space food, even the training is cool. Richard Garriott might have had the next best thing: His father was an astronaut. But in
Gattaca
-like fashion, Richard was prevented due to medical issues. So after making his fortune in some of the first generation of computer games, he began investing that fortune to become a second-generation astronaut thanks to Space Adventures, which allows private citizens to buy their way aboard a spaceflight.
Man On A Mission
takes us through this process, going quite in depth to the preparation procedures and the amazing footage from his time aboard the International Space Station. The boy inside us all may be thinking twice about wanting to go up there (especially if you are claustrophobic and don't have $30 million) but that same boy is going to be overjoyed anytime science fiction becomes a reality. And for 90 minutes and the price of just a ticket we get to ride alongside Richard Garriott every step of the way.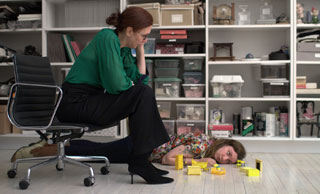 Tiny Furniture
- I can't say for sure whether or not writer/director Lena Dunham would favor being compared to Diablo Cody, but I assure her that I mean it in the most complimentary of ways. Watching her latest film I was reminded of the same unexpected joys that were in store the first time I saw
Juno
in Toronto. Cody's name may be attached to and even parodied for her twists on the modern teenage vernacular, but I'm referring to just hearing a fresh brand of naturalistic dialogue and that's what I heard from Dunham. In the film she plays a 22-year-old girl who moves back in with her mother and sister. With few skills from college to enter the workforce with, she gets a job as a hostess and begins palling around with a childhood friend (a career-making turn from the luminescent and delightfully hilarious Jemima Kirke) and a broke YouTube video artist (an equally terrific Alex Karpovsky). Nicely shot by cinematographer Jody Lee Lipes (who also has a charming - and also beautifully photographed - directorial effort,
NY Export: Opus Jazz
, playing at the fest),
Tiny Furniture
would be unfairly lumped as just another entry in the Mumblecore movement. Dunham's characters and screenplay might seem random if it wasn't so deliberately on point with its brand of humor and fragile emotions. She is a talent to watch and
Tiny Furniture
is a film to seek out.
To follow Cinematical's complete coverage of the 2010 SXSW Film Festival, feel free to bookmark this link.