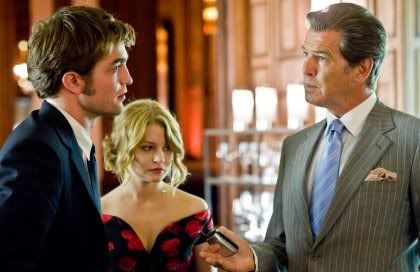 Remember Me
is a film that's shot through with the pain of death, from a brutal opening segment that could be dropped wholesale into a 1970's era Charles Bronson flick, to its characters who dwell on losses from which they'll never recover. "We leave fingerprints on everyone we touch," says hunky-broody Tyler Hawkins (
Twilight
's
Robert Pattinson
), underscoring an overarching theme that death reverberates through the lives of those who are left behind.
Positioned as a Nicholas Sparks-style tearjerker and starring two current pop-culture faces -- sparkly vamp Pattinson's love interest is
Emilie de Ravin
of TV's
Lost
-- it comes as a surprise to find that
Remember Me
is literate, sensitive, often quite funny, and altogether engaging, despite its formulaic underpinnings. Pattinson is very good as the Rebel with Little Real Cause, burning with daddy issues thanks to his older brother's suicide and a father (
Pierce Brosnan
) who's distanced himself from Tyler and his smart, awkward little sister (Ruby Jerins).
After a standard-issue James Dean-ish kerfuffle that leads to a busted-up face courtesy of an angry police officer (
Chris Cooper
), Tyler takes the rather dumb advice of his best friend and chats up the cop's daughter, Ally (de Ravin). Naturally, the two fall in love. Naturally, she has issues of her own, going back to the murder of her mother, on a subway platform, when Ally was ten. Naturally, Tyler fails to tell Ally about his history with her dad, and what follows is predictable.
Where
Remember Me
rises above its schmaltzy B-movie roots is in
Will Fetters'
script and the direction by TV veteran
Allen Coulter
(
The Sopranos, Nurse Jackie
), who turn this into a far more earth-bound and believable love story than most movies of this genre. Pattinson and de Ravin have genuine chemistry, and both are allowed to exhibit more grit and complexity than called for by the base story; their courtship is playful, passionate, and sometimes uncomfortable, with a foundation in their shared history of grief. Tate Ellington, as Pattinson's roommate, brings wild, irresistible energy to the "funny best friend" role, almost making it seem like a fresh construct. Likewise, Jerins' take on the equally overused preternaturally-intelligent-younger-sibling character is absolutely delightful.
As the fathers, Brosnan and Cooper could probably have phoned it in, but like everyone else in the cast they actually bring their full game. Cooper is bitter, over-protective, yet all of his mistakes come from love and pain. Elsewhere, Pattinson has a fine scene with Brosnan who, sighing at his son's sullen resentment, raises an eyebrow and reminds him, "You could do worse than have a father who bails you out of jail." These are characters that could have been one-dimensional villains, but Fetters has written them with far more depth, and both actors inhabit their roles beautifully.
Much will be made of the film's ending, which can be read as either tasteless or pandering, depending on your point of view. Indeed, it's a little cheesy; it's definitely a surprise (if you don't read the many, many spoiler-laden reviews before you see the film), but powerful nonetheless. It's perfectly in keeping with the old-school melodrama that forms the basis for
Remember Me
, but it does take the risk that viewers will find it off-putting.