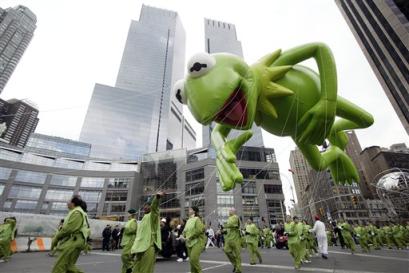 Welcome to the Thanksgiving edition of
The Write Stuff!
Thanksgiving is always rough on a screenwriter. You're usually seeing a lot of friends and family, and while they (candied) yammer on about their accomplishments,
you
have to start all of your sentences with: "We're still waiting to hear on that one..." and "Our agent says we're really close..." and "Grandma, let me explain the WGA strike to you one more time..."
But there is a great deal to be thankful for this year. On Monday, still happy and groggy from a weekend of gorging,
representatives from the WGA and the AMPTP will resume talks.
Ideally, each side will come away happy and we can end this strike. From a personal note, my writing career was right on the verge of kicking into high gear when the strike was announced, and I certainly don't want to lose that upward momentum. And looking at the bigger picture, we're a month away from Christmas here. Who wants to see not just writers but everyone who works in and around the entertainment industry desperately struggling to pay the bills? The grips, the gaffers, the assistants, the dry cleaners...these people are out of work, too.
So send your good vibes to the negotiating table on Monday. And if you think there's nothing you can do, you're wrong. You can electronically sign
this petition
to the AMPTP, which starts: "We, the undersigned, fully support the strike of the Writers Guild of America, and agree with the WGA's stated goals of obtaining just and fair compensation regarding revenues generated through "new media". The petition currently has 57, 695 signatures, which is extremely impressive. Won't you add yours?