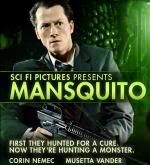 It's not unusual for TV executives to brainstorm boneheaded schemes designed to rebrand their failing channels -- schemes that often come nowhere near addressing the channel's actual problems. But you'd be hard pressed to find a scheme more desperate, more clueless, or more laughable than Sci Fi Channel's new idea to fix what ain't broke.
They've announced plans to change their name to
Syfy
.
Yes, "Syfy." Why, you ask? Good question. According to
TVWeek
, the NBC Universal-owned network has had its best year ever, ranking 13th in total viewers among ad-supported cable networks in 2008, and doubling its earnings in the fourth quarter.
So it only makes sense, then, that they need to ... change the name? And, it appears, to insult their core viewers while they're at it.
"The name Sci Fi has been associated with geeks and dysfunctional, antisocial boys in their basements with video games and stuff like that, as opposed to the general public and the female audience in particular," Tim Brooks, who helped launch Sci Fi Channel, told TVWeek. "It's somewhat cooler and better than the name 'Science Fiction.' But even the name Sci Fi is limiting."