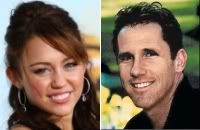 It's a match made in hell -- a new movie scripted by heartstring-tugging hack writer
Nicholas Sparks
(perpetrator of
The Notebook
and
Nights in Rodanthe
), starring marginally talented, pudding-faced 'tween idol
Miley Cyrus
. I know! It's a terrifying idea! And I'm sorry if I frightened you, but it's actually in the works.
That is, should a location for filming the thing ever be decided.
According to the Associated Press
,
North Carolina Gov. Beverly Perdue scheduled a press conference on Wednesday to announce that the movie, titled The Last Song, would be shot in her fine state, bringing hundreds of jobs along with the production. But the press conference was subsequently canceled, as the details had, apparently, not been ironed out.

Gov. Perdue told the Wilmington Star-News that the state of Georgia was also hot for the Disney-produced project, but the AP was unable to confirm, and Disney reps said that they had no idea where the movie would be filmed.

So now would be the time, should you live in either of these states, to write to your local Film Commission, or Department of Commerce, or even call the Governor, and speak your mind! Only you, the citizens of these United States, can stop the Miley Cyrus/Nicholas Sparks movie before it begins! And speaking as a film critic who will probably have to sit through it should it ever be made ... I beg you to act now.