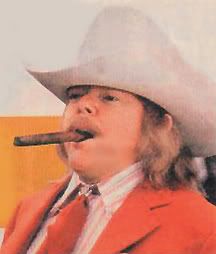 Attention, musicians: Little Enos is now in charge of your copyright. Yee-ha!
Yep, singer-songwriter-actor-short person
Paul Williams
has been elected President and Chairman of the Board of ASCAP (the American Society of Composers, Authors and Publishers), making him the first alumnus of
Smokey and the Bandit
to head up a major show-biz trade organization. Well, that we know of, anyway.
As a songwriter, Williams penned "Evergreen" (from
A Star is Born
), "The Rainbow Connection" (
The Muppet Movie
), and the score for
Bugsy Malone
. He also wrote hits for some of the biggest artists in the music industry, including the Carpenters' "We've Only Just Begun" and "Rainy Days and Mondays," the Three Dog Night classic "An Old Fashioned Love Song," and Helen Reddy's "You and Me Against the World."
But to movie lovers, he'll always be Little Enos Burdette, son of Big Enos (Pat McCormick), payin' the Bandit $80,000 to illegally haul a truckload of Coors to Georgia. And, for those of us with a deep love for this underappreciated classic, Williams was superb as the diabolical record producer Swan in Brian De Palma's rock-and-roll Faust rethink,
Phantom of the Paradise
, for which Williams also wrote the songs:
So what does ASCAP do, exactly? Mainly, they register and distribute royalties for music, thus helping to protect copyright and make sure that songwriters, composers and music producers get paid, and providing a venue where musicians can approve or deny the use of their work by others. Unlike a body of mostly non-creative overseers (see: the MPAA), the group is made up of over 350,000 music professionals who elect a board of directors.
Taking over from previous prez, film composer Marilyn Bergman, Williams said in a press release, "The ability to make a viable living from creating music is of critical importance not just to songwriters and composers, but also to our society as a whole. Recent advances in areas like technology have opened many new doors for music creators. But we also face a host of daunting challenges relative to how the act of creating music is both fairly valued and compensated. ASCAP must remain a strong voice for our creative community, and I plan to do all I can to ensure this is the case."
We will, however, always remember that Williams' greatest achievement was making Kermit the Frog a musical superstar: