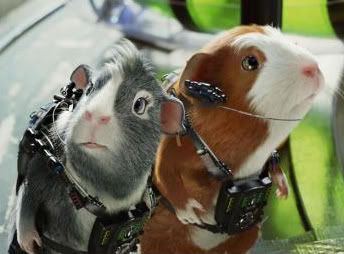 As Grandad use to say, "There ain't nothin' that goes together like baseball and guinea pigs!" Of course, Grandad suffered from a traumatic brain injury. And he wasn't actually my grandfather. But that's a story for another time.
THR reports
that Major League Baseball has unveiled "its most comprehensive promotional sponsorship arrangement with a movie to date" -- a possible million free tickets to the Walt Disney Pictures/Jerry Bruckheimer 3-D comedy
G-Force
, slated to open July 24.
The promotion goes like this: If a player hits a grand slam at the All-Star game on July 14, free opening-day tickets to see
G-Force
will be sent to the first one million people who register at Disney.com starting this Wednesday.
The idea is pretty brilliant, actually. Disney gets a few million new hits to their website, and then if a grand slam is hit, all of those million people who get a free ticket will buy extra tickets and bring their kids to see
G-Force
on opening weekend, thus creating a guarantee of X many butts in seats. Presumably, MLB is hoping that the desire to see a grand slam hit will lure those million households to follow the All-Star game, which is in itself merely a promotional gimmick for Major League Baseball.
MLB says that grand slams have been hit "well above the normal pace" so far this season, although that's no guarantee that one will be hit during the All-Star game. For those not schooled in the intricacies of Our Nation's Past-time, a grand slam is a home run hit when the bases are full, this scoring four runs. Impressive.