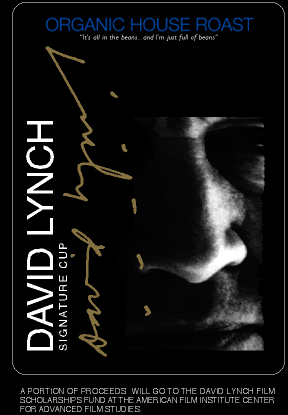 I have long been a fan of the freaky genius that is
David Lynch
. Even when I have no idea what his movie's about (
Mulholland Drive
) or think that one is about something, but have no way of corroborating if I'm right (
Inland Empire
), I love the sheer, unabashed weirdness that pops out of his enormous head.
Now, Mr. Lynch wants to sell me coffee. I guess he's been selling it for five years, but he sent out a Twitter message this morning that it's now for sale through Amazon and at the L.A. book shop, Book Soup. Well, I love coffee! I love coffee even more than I love David Lynch, if that's possible! Unfortunately, though, his "
David Lynch Signature Cup Coffee
" retails for $16.27 for a 12 oz. canister (or 8 oz. for $11.95). Unless he can assure me that Laura Dern picked the beans with her own hands, and that drinking a cup will allow me to watch
sitcoms starring people with huge rabbit heads
, at that price I think I'll pass.
To be fair, all the proceeds go to Lynch's scholarship fund at the American Film Institute. And you do get a dandy little container with Lynch's face on it, which I guess would be good for putting pencils in or something. But even
over at Amazon
, where you can buy the coffee through their grocery division, the stuff is $20 for a pound of beans. That's a little spendy, even if I do get a free pencil cup out of the deal.
Lynch is always interesting, though -- he's a proponent of Transcendental Meditation, and
started a foundation
to offer it to children suffering from ADHD and other forms of stress. And the director offers a
daily L.A. weather report
on his website. So really ... why not sell coffee?
The coffee's ad line reads "It's all about the beans ... and I'm just full of beans." Indeed he is.
Check out a short video of Lynch talking about his coffee, after the jump.