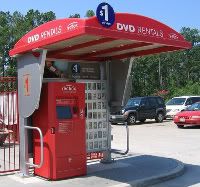 Redbox continues to frighten other established movie-rental venues, as two new studies indicate that the kiosks are having a huge impact on the home video industry. Last week,
Variety
reported that a study by the research company NPD estimates that Redbox, who plan to add to their over 15,000 kiosks with additional boxes in grocery and convenience stores,
will own 30 percent
of the rental market by the end of next year. Currently, mail-order services like Netflix control 36 percent of the market, while traditional video chains like Blockbuster still drive the market with a 45 percent share.
The fast growth of the company, which is owned jointly by Coinstar Inc. and a subsidiary of McDonalds, is making the studios very nervous. As reported here previously, Lionsgate, Sony, Disney and Paramount have all cut deals with Redbox, but
the company was forced to sue Universal and 20th Century Fox
when those studios attempted to strong-arm Redbox into signing a deal that would limit the rental company's distribution and kick profits back to the studios.