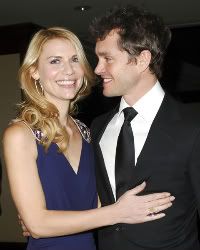 The 2007 movie
Evening
received bad reviews and was seen by about eight people, but it appears that one good thing came from the production.
AP
reports that beautiful actress
Claire Danes
has married her co-star from that film, equally beautiful actor
Hugh Dancy
. Combined, the pair are so pretty that if you look directly at them, you'll permanently scar your corneas.
For those of you who enjoy a whiff of scandal with your celebrity news, the Claire/Dancy (should we call them "Clancy?") romance began amid rumors that Danes entered the liaison while still involved with boyfriend Billy Crudup. This was only interesting because when Danes and Crudup began dating, there were rumors that she'd broken up Crudup's relationship with a then-pregnant Mary-Louise Parker. Whether any of this is true is anyone's guess, but when exceptionally lovely people break up and then start sleeping with other lovely people, the tabloids start sharpening their sticks. So ... congrats on the nuptials, kids!
Both actors have projects in the pipe -- Danes will next be seen in
Temple Grandin
, thrillingly described as a biopic about "an autistic woman who has become one of top scientists in humane livestock handling" (let's hope it's in 3-D!) and Dancy has sizable roles in
Coach
, directed by Stephen Frears son, Will, and in
Down and Dirty Pictures
, based on Peter Biskind's non-fiction book about the independent film industry.