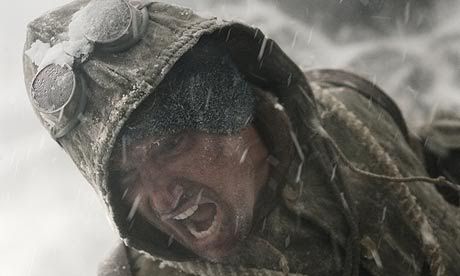 Strong, handsome men battling the elements, attempting to conquer mountains despite freezing temperatures, biting winds, and the limits of their own endurance. Filmmakers return to this story again and again. When it's well done, it still manages to enthrall. Despite a few weaknesses,
Philipp Stölzl
's
North Face
(
Nordwand
) is one of the more successful ones, thrilling, nail-bitingly intense, and simply beautiful to behold.
The story concerns two skilled German climbers, volunteers in Hitler's new mountain strike force, Toni Kurz (
Benno Furmann
) and Andi Hinterstoisser (
Florian Lukas
). The pair set off in 1936 to tackle "the last problem of the Western Alps" -- the 1,800-meter summit of Switzerland's Eiger North Face, pushed to climb by a German reporter, Henry Arau (Ulrich Tukur), who believes that a success would mean great propaganda for the Nazis and the upcoming Berlin Olympics. Toni's real motivation, however, is Arau's assistant, Luise (
Johanna Wokalek
, last seen in
The Baader Meinhof Complex
), an old love who's become a bourgeois Wicked City Woman, a turn that chaps rural Toni's prole hide.