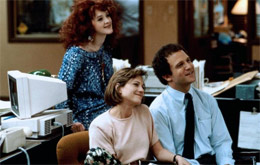 In honor of Valentine's Day, our staff will be sharing some of their favorite romantic scenes all day long.
Through the modern history of the romantic film (the good part, not the drought we're currently crawling through), it is very easy to go with the big moments. Lloyd Dobler and his boombox. "You complete me." Or something else not from a Cameron Crowe film. We think of the race to the airport or the first kiss so often we tend to neglect the ones not part of the cliche factory. Like the duet foreplay of Hansard and Iglova singing "Falling Slowly" in
Once
. Claudia's smile at the end of Magnolia. Even the look of ecstasy on Elizabeth Banks' face when she realizes she is making love and not just filming sex in
Zack & Miri Make A Porno
. A top 100 list of such scenes is not out of the realm of possibility, but the one that I always come back to is a moment between Albert Brooks and Holly Hunter in James L. Brooks' beautiful and prescient
tale
of the news business.
Aaron Altman (Brooks) and Jane Craig (Hunter) are the best of friends and partners at the Washington television station portrayed in the film. They can practically finish each other's sentences. ("I'll meet you at the place near the thing where we went that time.") They are the last voices they hear on the phone before they go to bed - two full years before Harry & Sally. She covers for him amongst colleagues when he's dealt a little blow to his ego by pretending to laugh hysterically. But things start getting worse for Aaron. He is on the bubble for a big impending layoff. He gets left off the team for a big breaking news story while Jane is given her big shot at executive producing the segment. The class act that he is, Aaron still manages to
phone in
vital information to Jane in the middle of it. With her too busy to talk further, he goes right on drinking screwdrivers and listening to Gladys Knight and the Pips.