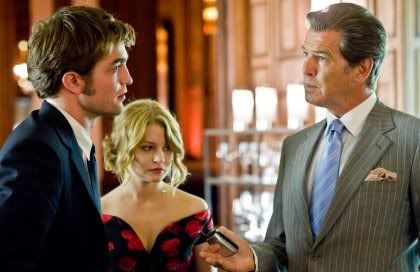 Remember Me
is a film that's shot through with the pain of death, from a brutal opening segment that could be dropped wholesale into a 1970's era Charles Bronson flick, to its characters who dwell on losses from which they'll never recover. "We leave fingerprints on everyone we touch," says hunky-broody Tyler Hawkins (
Twilight
's
Robert Pattinson
), underscoring an overarching theme that death reverberates through the lives of those who are left behind.
Positioned as a Nicholas Sparks-style tearjerker and starring two current pop-culture faces -- sparkly vamp Pattinson's love interest is
Emilie de Ravin
of TV's
Lost
-- it comes as a surprise to find that
Remember Me
is literate, sensitive, often quite funny, and altogether engaging, despite its formulaic underpinnings. Pattinson is very good as the Rebel with Little Real Cause, burning with daddy issues thanks to his older brother's suicide and a father (
Pierce Brosnan
) who's distanced himself from Tyler and his smart, awkward little sister (Ruby Jerins).
After a standard-issue James Dean-ish kerfuffle that leads to a busted-up face courtesy of an angry police officer (
Chris Cooper
), Tyler takes the rather dumb advice of his best friend and chats up the cop's daughter, Ally (de Ravin). Naturally, the two fall in love. Naturally, she has issues of her own, going back to the murder of her mother, on a subway platform, when Ally was ten. Naturally, Tyler fails to tell Ally about his history with her dad, and what follows is predictable.