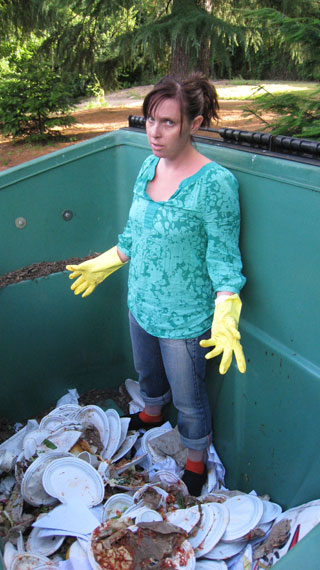 Film producer Miranda Bailey was hearing a lot about this whole "green" movement taking place in Hollywood. So on the production of her latest film, The River Why, she decided to test the waters and see what it actually takes to make a set with countless bottles of water, pollution and expansive garbage envionmentally-friendly. Her document of these events, Greenlit, will be having its world premiere at the South by Southwest Film Festival and she was happy to answer a few questions about what she was out to accomplish.

Leonardo DiCaprio has been very vocal about his concerns for the environmental effort. Yet you point out that two of his films, The Beach and Titanic, did great damage during production to the natural environments they filmed in. Was this your way of exposing a certain hypocrisy over the green movement in Hollywood or as part of the wake-up call that may have led DiCaprio to be more aggressive in this cause.

MIRANDA: I pointed out the two films THE BEACH and TITANIC starring Leonardo DiCaprio because I found it disturbing and ironic. I think it is hard for any one person in this business to be pro-environment and not contribute to excessive waste just based on how our industry works. These two films are extreme examples. But all films could do so much more to be conscious of what we do to our locations and what kind of waste we leave behind. I'm not sure what Mr. DiCaprio's reasons for being a green advocate are as I have never met him. But I think it is great that he does speak out and is pro-environment and I admire his recent efforts.