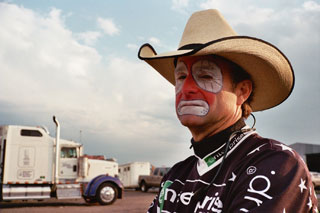 Any rodeo fans out there? Having been exposed to the culture a little during my trips to Vegas while the Professional Bull Riding circuit was in town. So I was curious to learn a bit more about it from Meredith Danluck who has made a documentary about it having its world premiere at this year's South by Southwest Film Festival,

Cinematical: The mythos of the cowboy is something suggested during the opening monologue. But what is the idea of the modern cowboy that all these guys are chasing that is either in sync or contradicts the Old West paradigm that we fall in love with as little boys?

MEREDITH: I think these guys arent necessarily "chasing" the idea of the cowboy, but rather are cowboys. Growing up outside of the ranching community, the mythology of the cowboy was propped up mainly by whatever Hollywood dictated; courtesy, pride, strength etc. These guys grew up with those values. I think, like with any archetype, there are evolutions of the characteristics that maybe on the surface seem contradictory. Winning a million dollars might not make sense with our idea of a cowboy, but once you strip away all the superficial layers, the core is the same.