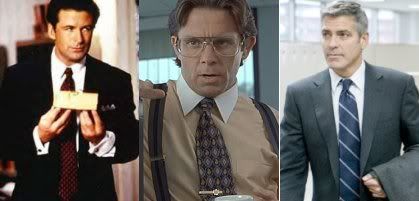 This week's re-release of Oliver Stone's
Wall Street
on DVD (a precurser to the upcoming sequel,
Wall Street: Money Never Sleeps
, slated for September) serves to remind of us of one of cinema's great businessmen: Gordon Gekko, played with smarmy avarice by Michael Douglas.
There have been a lot of great businessman characters throughout the history of film. Some sneaky, some sincere, some completely off their rocker. Here are a few favorites.
C.C. Baxter and Jeff Sheldrake
,
The Apartment
Jack Lemmon
's struggling, miserable clerk Baxter will do anything to get ahead -- including loaning his apartment to his married bosses for afternoon trysts. What seems like merely a bad idea becomes a nightmare when he finds out that his married boss Sheldrake (Fred MacMurray) is making time with the elevator girl (Shirley MacLaine) that Baxter secretly adores. Billy Wilder's comedy has a weird, dark undercurrent of pain, and Lemmon's at his best here.