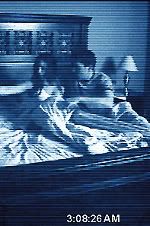 There's not much to it, but what there is, well, it's creepy as all get-out. A new teaser-trailer for
Paranormal Activity 2
has hit the Internet and ... is that Katie? Menacing a dog and a baby? What the ... ?
As reported by Alison Nastasi back in
February
, there was a bit of a battle between Lionsgate and Paramount over who would direct the sequel to the low-budget sleeper about a haunted couple and the weird bumps-in-the-night that obsessed them. It looked as if first-time director Oren Peli kight be replaced by Brian De Palma, of all people, or
Saw VI
's Kevin Greutert or
Wolf Creek
director Greg McLean .. well, or anyone, really. But the roulette wheel stopped on
Tod Williams
(
The Door in the Floor
) with Peli as producer and a screenplay credited to veteran TV writer Michael R. Perry.
The teaser is, like the first film, more atmosphere than substance, but it's enough to give you chills. A night-vision camera gives us a view of a home not unlike the one where Katie (
Katie Featherston
) and Michah (
Micah Sloat
) were menaced by Katie's demon-ghost-monster. But this time there's a dog. And a baby in a crib. The dog starts to bark at something in the next room, then in the doorway ... eek!
Almost nothing has been released on the story yet, and the film's set for release in October. Watch and be chilled.