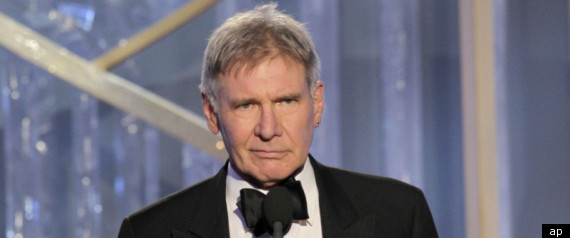 Last night, like the rest of Earth's lost souls, I watched the Golden Globe awards. Like you, I was not nominated for a Golden Globe, yet still watched the show without any chance of personal accolades. Did any good come from this viewing decision? For most of you, that's between you and your god. For me, I'll admit, I did learn a few things during the course of the festivities -- ten, to be exact.
1.
Apparently the outfit that Ren McCormick wore to prom in
both
"Footloose" movies also makes appropriate attire in which to host the Golden Globes.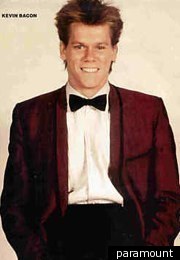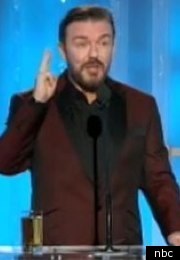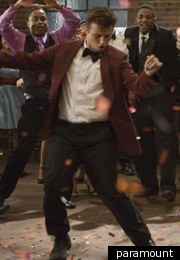 2.
Johnny Depp has not seen "The Tourist." Unfortunately, I still do not have anything in common with Johnny Depp.
3.
Both Indiana Jones and Willie Scott were at the Golden Globes last night. From the look on Harrison Ford's face, I'm assuming there's only a 30 percent chance that he would remember Kate Capshaw. Actually, by the look on Harrison's face, I would bet money that Ewan McGregor could have convinced Ford that they were in "Star Wars" together.
4.
Ricky Gervais was obviously told to tone things down this year. Which isn't a surprise after the onslaught of "Ricky could say anything!" Globes advertising -- something that should have been the only clue needed to know that Ricky wasn't going to say anything. I mean, if my Twitter feed is any kind of barometer, Gervais was upstaged by Uggie, the dog from "The Artist."
5.
"Bridesmaids" is a movie about poop. I've seen "Bridesmaids," and, to be honest, I don't remember that being the case. I remember the one scene that I didn't laugh at being about poop, but certainly not the entire movie. But, according to anyone who mentioned "Bridesmaids" last night, it's about poop. So there you have it.
6.
Matt LeBlanc is the saddest human being I've ever seen win an award. The only thing that I can think of is that LeBlanc, knowing that he had
no
chance of winning, had an elaborate and hilarious "Joey Tribbiani loses an award" shtick planed. By doing this, he would become an Internet sensation and re-endear himself to America. But then he won, and now he's just another Golden Globes winner that we already forgot. If this is the case, then I, too, am sad for Matt LeBlanc.
7.
Mark Wahlberg does not speak French. (Actually, Mark Wahlberg made it clear that he wants no part of the Golden Globes.) When handing out the award for Best Actor in a Comedy or a Musical, it was obvious that Jessica Biel was suppose to read the nominees, and that Wahlberg was going to read the envelope. Wahlberg opened the envelope, saw Jean Dujardin's name, thought,
not even going to try
, and handed the card back to Biel. From their mannerisms, I would bet $1000 that, backstage, Wahlberg told Biel, "If it's the French guy, forget it. It's all you."
8.
Seth Rogen and George Clooney both made jokes about penises. Seth Rogen made a reference to his own erection. George Clooney made a joke referring to the size of Michal Fassbender's penis. Last night, I learned that I would like to see Seth Rogen and George Clooney team up and star in a movie about penis jokes.
9.
David Fincher is not about to be in your viral YouTube video. If Clooney had handed Meryl Streep's glasses to Robin Williams, do you have
any
doubt that Williams would have pounced on stage to deliver those glasses and, in the process, make quite the to-do? Do you want to know the opposite of Robin Williams? That would be David Fincher. Fincher had a look on his face that was half confused, half annoyed but fully "No way in hell, Clooney."
10.
Harrison Ford presented Best Picture Drama and, literally, he could have Tweeted his presentation. Ford said 17 words, which translated into 97 characters. He could have even added a #goldenglobes and a #its420somewhere hashtag.
Mike Ryan is the senior writer for Moviefone. He has written for Wired Magazine, VanityFair.com, GQ.com, New York Magazine and Movieline. He likes Star Wars a lot. You can contact Mike Ryan directly on Twitter