War films make up an illustrious and robust genre in movie history, but it's hard to figure out when tweens and teens are ready to see the realities of war depicted on the big screen. The WWII drama
"Red Tails"
is a rare, tween-friendly war film that -- except for a couple of explosions and two major characters' deaths -- omits any gratuitous death scenes. It's probably due to executive producer
George Lucas'
influence, but the action sequences in "Red Tails" seem more "Star Wars" than "Saving Private Ryan," and that's a good thing for younger viewers.
Educational if not exceptional, "Red Tails" provides younger audiences a look at how African-American soldiers (in this case, the legendary Tuskegee Airmen fighter pilots) served (and sacrificed for) their country despite facing institutional racism. In honor of the movie's release, here are some recommendations and tips to introducing war films to your interested kids.
1. Fantasy Wars
Fantasy epics are a fine introduction to cinematic war. Since most epic fantasies like "The Chronicles of Narnia," "Harry Potter," "The Lord of the Rings," "Star Wars" contain battle scenes, they're a good way to gauge whether your mature tween or young teen can handle the violence without the added emotional layer of a historical subject matter. Younger viewers understand that Nazguls, Ringwraiths, Death Eaters and Storm Troopers don't exist, so the violence, however intense, can remain in the realm of the fictional universe of the movie.
2. "War Horse"
Once your tween is ready to tackle historical accounts of war, it's best to start with a film that is set during a war but doesn't depict that war too traumatically. A film like "War Horse" is ideal, because it focuses on the horse Joey, his beloved teen owner Albert (Jeremy Irvine) and then the various wartime situations the horse finds himself in throughout World War I. There is definitely violence, but it's not close-up and bloody. There's even a lovely moment of truce between the Germans and the English when two soldiers work together to free the trapped Joey from a tangle of barbed wire.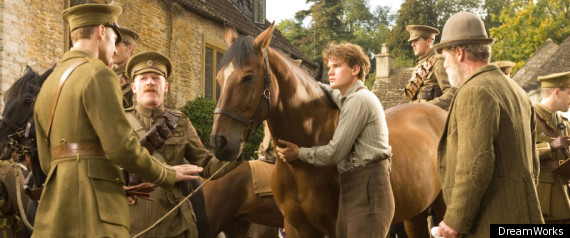 3. "The Great Escape"
Classic war films tend to be less violent than contemporary ones, and 'The Great Escape' is based in a Prisoner of War camp, so there are no extended battle shots of dismembered limbs or torture to fast forward. Tweens and teens will enjoy this tale of extraordinary resilience, ingenuity and teamwork. And as a bonus, those kids who've seen the animated comedy
"Chicken Run"
should pick up on all the references to the escape drama, where all of the Allied soldiers pool their expertise to break out of their German prison.
Another great choice:
"Bridge on the River Kwai."
And tween girls who want to skirt around war and concentrate on romance should see the inimitable masterpiece
"Casablanca."
4. "Glory"
Like "Red Tails," this war film focuses on the experience of African Americans. But unlike the Tuskegee Airmen, the men of the 54th Regiment of Massachusetts Volunteer Infantry are, with one notable exception, former slaves who've enlisted to serve for the Union. With an outstanding cast (Matthew Broderick as of the Col. Robert Gould Shaw; Denzel Washington, who won his first Academy Award for his performance; Morgan Freeman, Cary Elwes and Andre Braugher) and a heartbreaking lesson in slavery, racism and what it means to be an American, this is a must-see for the mid-teen years.
5. "Saving Private Ryan"
If your teenager is already a slasher-flick connoisseur or a high-schooler interested in World War II, it's time for them to graduate to a few mature, appropriately violent war films. Maybe not a graphic war fable like
"Inglourious Basterds,"
but certain
Steven Spielberg's
"Saving Private Ryan,"
or
Clint Eastwood's
companion films
"Flags of Our Fathers"
and
"Letters From Iwo Jima."
If you're interested in an "entry level" war movie with explosions and character studies but not much depth, try
"Pearl Harbor"
before moving onto the more substantive war films. Have an exceptionally introspective older teen? Try
Terrence Malick's
fabulous stream-of-consciousness approach to
"The Thin Red Line."
6. Atrocities of War and Anti-War Films
Once your older teenager understands the context of various wars in world history, it's time to expose them to movies that show the "other" side of war: the victims, the mistreated veterans, the ugly aftermath. Topping the list is Holocaust films like
"Schindler's List"
and
"The Pianist,"
but there are plenty of difficult-to-watch but important to see movies from every war:
"Born on the Fourth of July,"
"The Deer Hunter,"
"Hotel Rwanda,"
"Katyn,"
even
Angelina Jolie's
new Bosnian War drama
"In the Land of Blood and Honey."
Red Tails
During World War II, the Civil Aeronautics Authority selects 13 black cadets to become part of an experimental... Read More
War Horse
Albert (Jeremy Irvine) and his beloved horse, Joey, live on a farm in the British countryside. At the... Read More