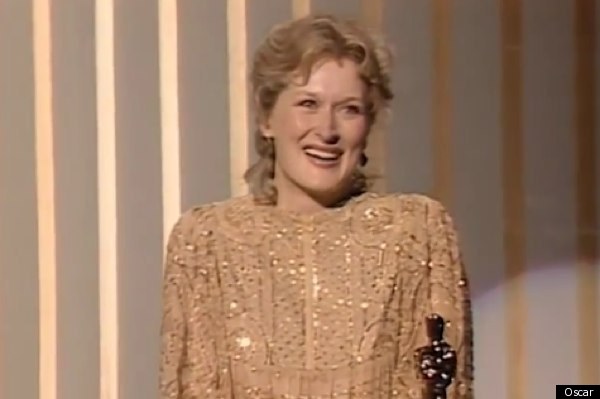 Poor Meryl Streep. After losing the SAG Award to Viola Davis on Sunday night, it looks less and less likely that Streep will win the Academy Award for her performance in "The Iron Lady" at the Oscars on Feb. 26.
Now, of course Streep has won the Academy Award before -- twice, actually -- but it's still somewhat shocking that she hasn't taken home the little gold man since winning for "Sophie's Choice" in 1983. 1983! How long ago is that? Here's a YouTube clip of Streep receiving the award from a very young looking Sylvester Stallone:
I'm going to repeat this all one last time for effect: Meryl Streep has not won an Oscar since the ceremony on April 11, 1983. To drive this point not just home, but right smack into your left nostril, here are 25 things that have happened since Meryl Streep last won an Academy Award.
On the day Meryl Streep won her most recent Oscar
:
Liza Minnelli, Walter Matthau, Richard Pryor and Dudley Moore were the Oscar hosts. (Matthau, Pryor and Moore have sadly passed away.)
Michael Jackson's "Beat It" was the number one song.
"Tootsie" was the number one movie.
A woman had never been in space.
The Disney Channel was a week away from launching.
Michael Jordan was finishing up his sophomore year at North Carolina.
John Elway was two weeks away from being the first pick in the NFL Draft.
Since Meryl Streep won her most recent Oscar
:
There have been five sitting U.S. Presidents.
"Arthur" and "The A-Team," both less than a year old when Streep last won her most recent Oscar, were remade as nostalgia driven movies.
"Footloose," which was released over a year
after
Meryl Streep won her last Oscar, was remade as a nostalgia driven movie.
The Original "Star Wars" Trilogy has been released on home video six separate times.
Meryl Streep has been nominated for 13 Oscars
Meryl Streep has appeared in 35 movies.
Meryl Streep starred in a movie with Rosanne Barr.
Meryl Streep has won 65 acting awards that are not called "Oscar."
Roberto Benigni won an Oscar
The Florida Marlins were created ten years later, in 1993, and then won two world championships.
Seventeen professional sports franchises from the NFL, NBA, NHL and MLB have switched cities.
Four different actors have played James Bond.
Seven different actors have played The Doctor on Dr. Who.
Stefani Angelina was conceived, born, adopted the stage name "Lady Gaga" and recorded the song "Bad Romance."
Jesse Eisenberg, Jennifer Lawrence, Keira Knightley, Ellen Page, Abigail Breslin, Saoirse Ronan and Hailee Steinfeld were all born and, since, have each received an Oscar nomination.
The Academy of Motion Picture Arts and Sciences has handed out 680 Oscars.
Two of Meryl Streep's co-stars -- Chris Cooper for "Adaptation" and Nicole Kidman for "The Hours" -- have won Oscars.
Meryl Streep has lost Oscars to Shirley MacLaine, Geraldine Page, Cher, Jodie Foster, Kathy Bates, Susan Sarandon, Gwyneth Paltrow, Hilary Swank, Catherine Zeta-Jones, Helen Mirren, Kate Winslet and Sandra Bullock.
Mike Ryan is the senior writer for Moviefone. He has written for Wired Magazine, VanityFair.com, GQ.com, New York Magazine and Movieline. He likes Star Wars a lot. You can contact Mike Ryan directly on Twitter