eOne Films/Summit Entertainment Man on a Ledge Directed by Asger Leth Written by Pablo F. Fenjves Starring: Sam Worthington, Elizabeth Banks, Jamie Bell, Ed Harris, and Kyra Sedgwick Opens January 27, 2012
Today is the day everything changes -- one way or the other.
New York City stars as itself in this taut suspense/thriller. Views of the city are heavily featured in an opening pastiche of shots at street level and from above, including an ominous glance at the titular ledge. We follow Nick Cassidy (Sam Worthington) as he checks into the Roosevelt Hotel in midtown Manhattan and as he prepares for what we know is the inevitable -- his walk out on the building's ornate ledge. Once you get over the somewhat heavy-handed approach (a subtle film this is not) and the action starts in earnest shortly after, there are enough plot twists and genuinely suspenseful thrills to make this movie worth the price of admission.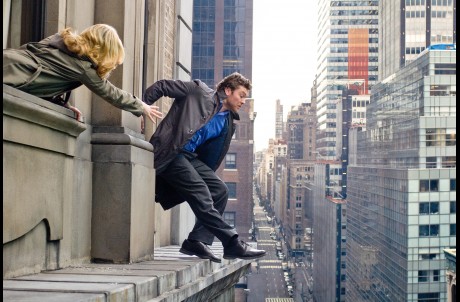 As a crowd begins to gather below to egg on the supposed suicide and the circus involving police, emergency workers and media starts to come into play, the story splits into several other threads, including a jump back a month earlier when Sam -- as an ex-cop -- was an inmate of Sing Sing Prison heading for a 25-year stay. How he ends up back on the street is a nice bit I won't spoil, but I'll mention that one of the strengths of the film is its sense of something very close to realism. Nick is no superhero, the car chases feel like real car chases, and a gritty, unvarnished kind of edge overall gives the mayhem a realistic, everyday kind of tone. Like it was all stuff that could really happen -- almost. It ramps up the moments of jump-in-your seat suspense.
Elizabeth Banks plays Detective Lydia Mercier, a boozy officer Nick has requested due to her notoriety after a previous suicide made good on his threat on the evening news. As it becomes clear that Nick has a motive beyond suicide, the two of them make a nice pairing as misjudged officers of the law who gradually bond. The characters are more than one-dimensional and some fine supporting talent like Ed Harris adds to the movie's base of solid acting. Eye candy and comic relief come in the form of Nick's younger brother and his girlfriend Angie (played by Jamie Bell and Genesis Rodriguez) as a bickering couple.
As Sam's story gradually unravels and comes to light, the movie does a nice job of bringing all the threads together for a fast-paced and inventive ending that's not entirely predictable. The clever script keeps a few surprises right up to the very end.