In the next few weeks, the NCAA Men's Basketball Tournament will take over everyone's lives. You'll watch games at work -- without your boss' knowledge -- in the hopes of making money in an office pool...which will inevitably be won by someone who doesn't pay attention to sports.
But why pine over contests you have absolutely no control over? Instead, make your voice heard in
Moviefone's Will Ferrell Bracketology
.
On Friday, March 16, Will Ferrell's newest comedy, "Casa de Mi Padre," hits theaters. In it, Will plays Armando Alvarez, the heir to a Mexican ranch who ends up in a war with the country's most feared drug lord.
To celebrate "Casa" and March Madness, Moviefone has put together a month-long NCAA-style tournament pitting 16 of Ferrell's best characters against each other. All you have to do is vote for your favorite one. (You can see the full bracket below.)
Let's start things off with the SAINT DIEGO REGION, which pits Ron Burgundy ("Anchorman") vs. Nick Halsey ("Everything Must Go") and Chaz Reinhold ("Wedding Crashers") vs. Mustafa ("Austin Powers"). You have until tomorrow (Tuesday, 3/13) at 12 p.m. to make your picks!
UPDATE: POLLING HAS NOW CLOSED
Advancing to the second round are Ron Burgundy and Chaz Reinhold. For the latest round of voting,
HEAD HERE
.


BRACKET (click to enlarge)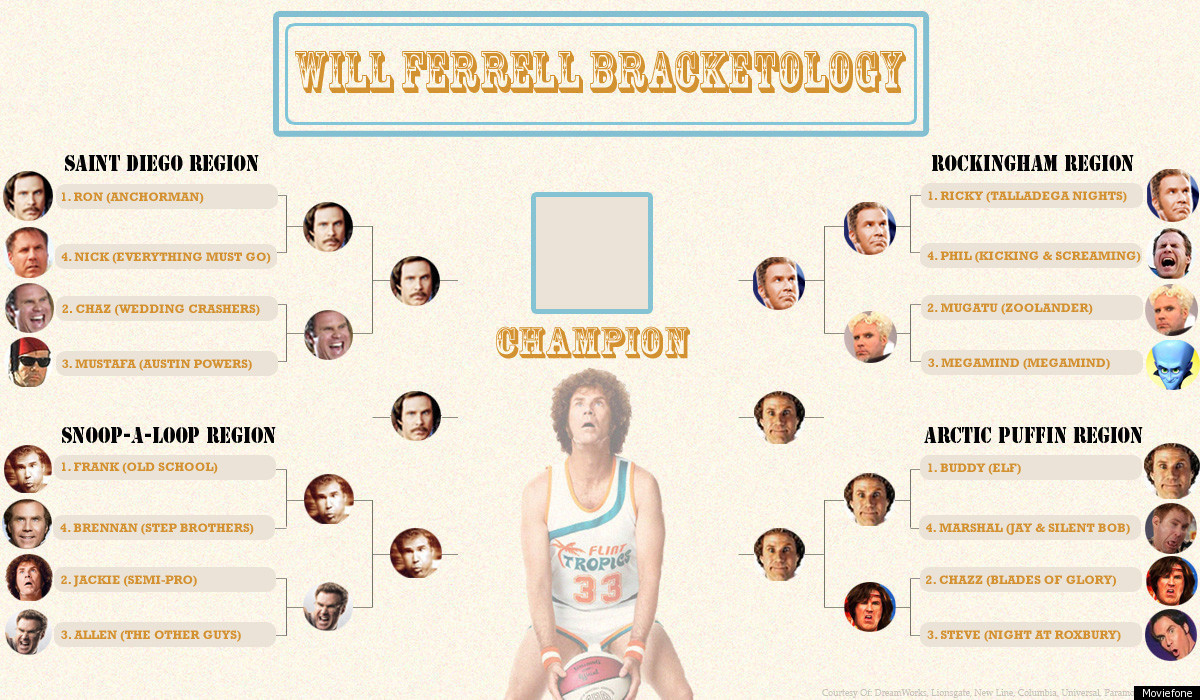 %VIRTUAL-MtGallery-236POLL--5445%