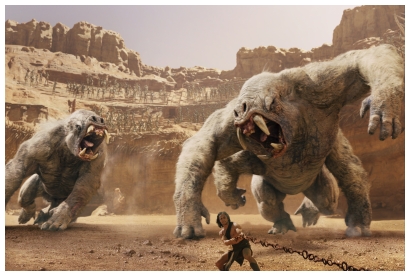 Buck Rogers, Flash Gordon, James Kirk, Luke Skywalker. Bleep those guys; as an interplanetary adventurer, John Carter has 'em all beat by at least ten years. Bringing the star of Edgar Rice Burroughs' series of Barsoom novels to the screen has been a long-sought-after passion project for a number of filmmakers, including Bob Clampett, Ray Harryhausen, John McTiernan, and Robert Rodriguez, but it was Andrew Stanton -- previously known for his work at Pixar, including directing
Finding Nemo
and
Wall-E
-- who finally got the chance, with Disney as his generous backer. Now his big-budget, live-action debut (laced with a healthy portion of computer-generated characters)
John Carter
, based on the debut tale
A Princess of Mars
, has come to the big screen, with Taylor Kitsch, Lynn Collins, and Willem Dafoe starring.
beabetterbooktalker.com
's Andrea Lipinski joins Cinefantastique's Lawrence French and Dan Persons to to soak in the magnificent vistas of Mars and see whether the adventure matches the scenery. Also: Andrea gives her thoughts on the Eddie Murphy comic fantasy,
A Thousand Words
, and Dan talks about the real-time horror film
Silent House
, the surreal Swedish musical fantasy
The Sound of Noise
, and the borderland whatsit
Tim and Eric's Billion Dollar Movie
. Plus: What's coming to home video.
Technical Note:
The long running time for this show means we've had to settle for lower audio quality. Just imagine it's 1933 and you're listening to
Little Orphan Annie
. Keep drinking your Ovaltine!
Click the player button to hear the show, or the title to download.
The Cinefantastique Spotlight: John Carter