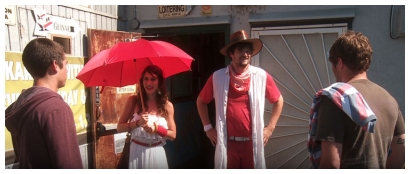 For your listening and smoking pleasure, here's the latest episode of my new, short radio series,
The Indie on Demand Movie Review.
This time, we focus on
High Road,
the new, mostly improvised road comedy in which James F. Pumphrey plays an aspiring musician, part-time philosopher, and small time drug dealer who's forced to flee town when he thinks the cops are after him. Under the direction of Upright Citizens Brigade founding member Matt Walsh, much panic, gender confusion, and herb partaking follow, fortified with hefty turns by such comedy pros as Ed Helms, Abby Elliot, Rob Riggle, and Lizzy Caplan, among others.
Click the player to hear my review.
PLEASE TELL YOUR LOCAL PUBLIC RADIO STATION THAT YOU'D LIKE TO HEAR THE INDIE ON DEMAND MOVIE REVIEW EVERY WEEK
('Cuz You Do, Don't You?)
Let Them Know It Can Be Found at PRX