Although the NCAA tournament is only into its initial rounds, Moviefone's
Will Ferrell Tournament
has already hit the Elite Eight!
After one week of voting, Ron Burgundy and Chaz Reinhold (
Saint Diego Region
) Frank the Tank and Detective Allen Gamble (Snoop-A-Loop Region), Ricky Bobby and Mugatu (
Rockingham Region
), and Buddy the Elf and Chaz Michael Michaels (
Arctic Puffin Region
) all advanced into the next round of the bracket. The only upset so far belongs to Detective Gamble, who took out the second-seeded Jackie Moon of "Semi-Pro."
(For those who haven't been following, the tourney is in honor of "Casa de Mi Padre," Will's latest film, and the NCAA Men's Basketball Tournament.)
Now, you'll have until Tuesday, 3/20 at 12 p.m. to make your Elite Eight picks!
(You can see the full updated bracket, with winners from previous rounds, below.)
UPDATE: POLLING HAS NOW CLOSED
Advancing to the Final Four are Buddy the Elf, Frank the Tank, Ron Burgundy and Ricky Bobby. For the previous rounds voting results,
HEAD HERE
.


BRACKET (click to enlarge)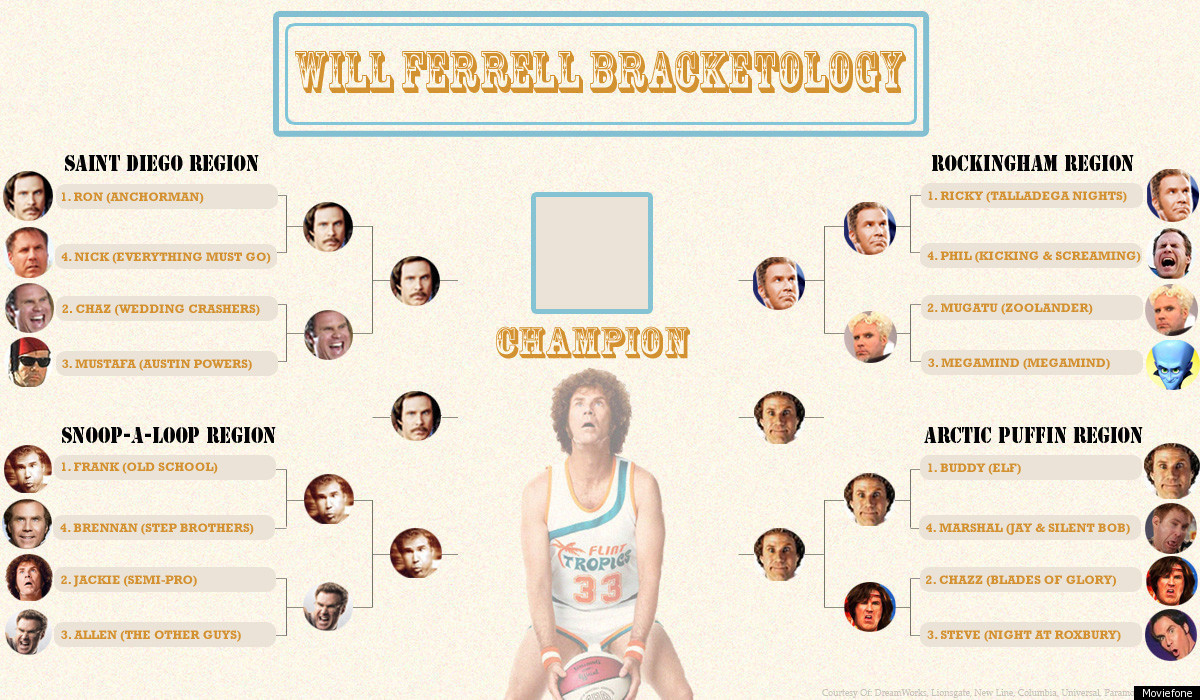 %VIRTUAL-MtGallery-236POLL--5623%