Since her 2004 debut album
Get Away From Me
, musician
Nellie McKay
has proved herself to be astonishingly versatile. The London-born, New York-raised songstress can change genres during the running time of a single tune.
"Sari" features her rapping to a Bach-like accompaniment, and "I Want to Get Married" sounds romantic and even a bit creepy because the subject of the tune is losing one's own identity in a relationship. The gentle piano chords hide some pretty disturbing lyrics. She also offered a sincere appreciation for the artistry of Doris Day in her
Normal as Blueberry Pie
album, and her
Home Sweet Mobile Home
album is something we in Kansas can relate to.
It's not that McKay is merely flitting with styles or even media; she's astonishingly good at whatever musical instrument she touches or even which medium she chooses. She won a Theatre World Award for playing Polly Peachum in Bertold Brecht and Kurt Weill's The Threepenny Opera, and she's even blogged here at
Huffington Post
, explaining why public radio is a vital resource.
Because she assumes different identities in her songs (for part of "David," she's George W. Bush), it's not surprising that she's a credible leading lady in David Grubin's new film
Downtown Express
. She plays a struggling pianist who becomes close to a promising Julliard violinist (played by real Julliard alumnus Philippe Quint).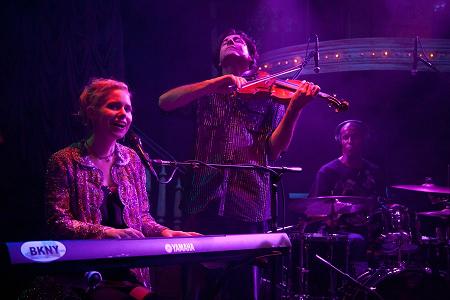 Susan Meiselas / Magnum Photos ALL RIGHTS RESERVED
For
Just In Case It Matters
, she told me how she and Quint were able to make scenes that weren't spontaneous look that way and what sort of drink can help creativity. It reminds me of what Lincoln supposedly said when informed of General Grant's fondness for booze. "If it [drink] makes fighting men like Grant, then find out what he drinks, and send my other commanders a case!"
Here's the interview: