The first images of Leonardo DiCaprio as an evil plantation owner and Jamie Foxx as a badass slave in Quentin Tarantino's "Django Unchained" have arrived
thanks to EW -- and they don't disappoint
.
Foxx describes his cowboy character as a combination of two of the most iconic anti-heroes of all time: "Richard Roundtree [Shaft] meets Clint Eastwood."
DiCaprio plays a goateed, hammer-wielding heavy named Calvin Candie who likes to make his slaves fight to the death, a character that might give even "Inglourious Basterds" bad guy Christoph Waltz a run for his money in the villainy department. "Candie is a business man who owns a plantation called Candie Land, and that's where my wife ends up being," Foxx says. To find her, "we have to get in good with Candie, by me playing a valet for Christoph's character."
Waltz plays a German Bounty hunter named Schultz whom Django recruits to help get revenge against his owners. "He teaches Django certain things he needs to become a whole man, and [Django] also teaches Christoph that when life deals you these cards, here's what you've got to do,"
explains Foxx
.
"Django Unchained" opens Dec. 25. Take a look at the photo of Leo looking menacing below, and
click over to EW for the rest
!
[via
EW
]
PHOTO: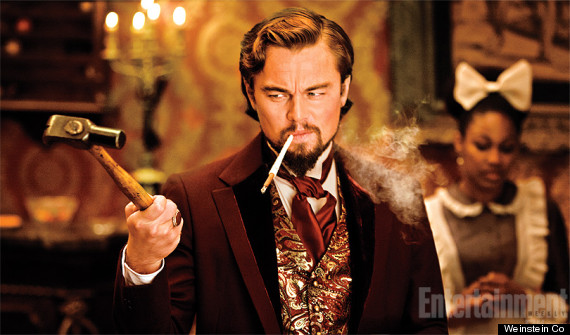 Django Unchained
Two years before the Civil War, Django (Jamie Foxx), a slave, finds himself accompanying an unorthodox... Read More