Already a massive success in its native France, where it became the second-highest grossing French film of all-time,
The Intouchables
is finally making its way across the Atlantic. From directors
Eric Toledano
and
Olivier Nakache
, the real-life-inspired story follows an unlikely friendship between two men, one a rich quadriplegic (
Francois Cluzet
), the other a Senegalese immigrant (
Omar Sy
) who becomes his caretaker. Sy won a Cesar (the French equivalent of an Oscar) for his role in the charming comedy, becoming the first black actor to do so, and in the process, he beat out the eventual Oscar-winner himself,
The Artist
's Jean Dujardin.
The heartfelt buddy movie clearly touched a nerve in France, inspiring a passionate debate with its issues of immigration and social marginalization becoming talking points in the French media and even the French presidential elections. But while the film was branded progressive in France, in the United States an early review from Variety accused it of containing the "kind of Uncle Tom racism one hopes has permanently exited American screens."
It's a comparison that seems deeply unfair when you watch
The Intouchables
, and one that Toledano and Nakache simply don't understand. While the two were in Toronto promoting the film's Canadian release, I spoke to them about
The Intouchables
' international success, North American hopes, and why those criticisms are so wildly off-base.
So, the movie is based on a true story. For those not familiar with the background, where did the story come from?Olivier Nakache:
We saw a documentary on TV, the name was
In Life, Death
. It's more about Philippe [Pozzo di Borgo] than Abdel [Sellou], about the life of a quadriplegic, and about his wife, his family, about his accident. And we found in a special moment of this documentary, the very critical relationship between Abdel and Philippe; for us, it was a discovery. The story was funny, it was tough, it was very deep. And we decided to make a movie about them.
What about their relationship made you want to turn their story into a movie?Eric Toledano:
It moved us. It was a special thing. These two guys, it was their audacious and non-politically-correct sense of humor that was so special, because it was such an important part of their relationship. When we met the two guys, Philippe told us that if it weren't for that sense of humor, he would've died.
When you a chose a subject, there are always the same subjects in cinema, love, friendship. We have no revolutionary new suggestions, it's always approximately the same. What is changing though, is the angle. When we discovered the subject of
The Intouchables
, we just saw for example,
My Left Foot
, the movie with Daniel Day-Lewis, he won the Oscar for it. It's a beautiful story, but it's approximately the same story. The new angle for us, as directors, is to highlight the humor in the center of the relationship. We tried to take a [familiar] subject and to give it a new angle, to inject new fire into the story. And our fire was to find the humor in a deep and difficult situation.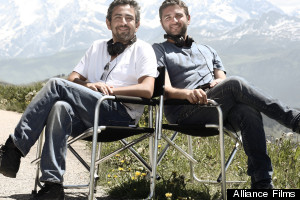 I think that optimism is a big part of the movie's charm. Why do you think it's important to be optimistic in a situation like Philippe's?ON:
Because of real life. Like you said, we worked to make an optimistic film, one with hope. Because the true situation is very tough: two lonely guys, both handicapped, one socially, one physically, but together they find hope. One reconnects the other to his [future] wife, which is in fact, a true story. And we liked this way of thinking. You can find hope in very tough situations. The real Philippe, he's very optimistic, he's always tried to be in good spirits.
Was Omar Sy always your first choice to play Driss?ET:
Yes. Definitely.
ON:
Definitely. Totally. If he didn't want to make this movie, we wouldn't have made it. [The movie] really was for him. Because it was time for us to find him a leading role in a movie. We made two movies with him before this one, and we wanted to make something special for him. So we wrote the script with him in mind.
And Francois Cluzet?ON:
Francois, no. We had another person we wrote for before, Daniel Auteuil. And after, we changed to Francois Cluzet. And we were very lucky that he accepted the part.
The two of them have such great chemistry together. Was that immediate, or was that something you developed through rehearsals?ET:
We have to describe who these people are in France. On one side we have Omar, who is on TV every night, for a TV show [
SAV
]. So he's very mainstream, but not very respected in the art movie community. And on the other side, we have Francois Cluzet, who is very famous and very high-brow, a very art house guy. They seemingly have nothing in common. So part of the marketing was to [play up on that]. When you go on the Metro and you see the poster, you say, "What are they doing together in a movie?" It's already weird and curious.
Did you have any idea the film would do as well as it has in France?ET:
It's impossible to understand, to ever predict a situation like this. It's very rare. It's impossible to think about these kind of proportions, it's almost inconceivable. We were in the storm; the journalists were calling us, the information channels, [then-French President Nicolas] Sarkozy. So we're just now coming out of the storm. Because we had the Cesars, we had the theatrical release, the DVD release, foreign releases.
ON:
Now we're going to quit and buy a bakery. [Laughs]
The movie seems to translate well outside of France, though, too. Did you see it as a universal story, or a specific commentary about French society?ET:
No, we saw a very universal story. Very early on, we knew that the film wasn't typical of French comedy or the French way of shooting. But we didn't expect these proportions, in Quebec now, the rest of Canada, in Italy, Spain, Korea, Greece, Israel, so many countries. Now it's no longer our responsibility, it's become more than us. It's surpassed us. It's become something special and very universal. For us, that's terrific.
And now with the North American audience, we're going to see what happens. Especially in the US, if they want to read subtitles or not. [Laughs] We're gonna see. Because
The Artist
didn't have subtitles, so ... we're gonna see.
Speaking of The Artist, do you think its success made it easier for French films to find North American audiences? Or was it sort of an anomaly? Since like you said, it doesn't have subtitles.ET:
It's not a subtitled movie, so it's a curiosity. I think many Americans thought it was an American movie, because it was, "The Weinstein Company presents." I think many people didn't know that it was a French movie.
And the Weinstein Company is planning on remaking The Intouchables for the US too, right? How do you feel about that?ET:
I feel good about it. We made the story, but for us, the job is almost over. It's also being remade in Italy. We hope that they are going to do a good job, but we trust in the Weinstein Company, we trust in Paul Feig [the rumoured director], we trust in Colin Firth if he does accept the role. If the story is enlarged, why not? We are not the guardians of the temple. We made this our job, and now we want to get out from the movie to do another one. And after that, to find a new goal and a new challenge. We are young.
Do you appreciate the dialogue the film has started, not just in France, but now in North America as well?ET:
Not everything. For example,
the Variety review
? No, we do not appreciate that, because I think that it wasn't very smart. I think, [it's] one against all the world. There are over 40 million people in Europe that didn't catch this kind of subtext. But in general, most of the dialogue, yes, we appreciate it, because it's talking about the real problems. The debate the movie created around disability, around the projects of Paris, it's a good debate, a good conversation. And even during the elections in France, people spoke about these problems because of the movie. So yes.
But the American reaction particularly, it's not very interesting for us. It's so far removed from our goal and our direction. It's so dumb, and a misunderstanding. You know, I used to say that this is a vestige of the political correctness of Americans. They don't want to say that and that and that, even if it's true. Sorry, my friend, if it's true that when you are black and in the projects you have less culture than a rich guy in the city center of Paris, this is just reality. They don't want to see reality. And if that is the case, I can do nothing for you. Life is changing, the world is changing. Sorry for them.
For me, at least, the movie had much more to do with class issues, than race.ET:
What is the point? This is a true story. We had some critics say, for example, many people say the guy in the wheelchair is very rich, and [so his condition] isn't the same as when you are not rich. But I'm not doing a movie about disability, I'm doing a movie about these two people. It happened like this: there is one rich, one poor. When you have commercial success, people want to make you political, make you a militant. We are not militants, we are just making movies. I'm not in politics, I'm a screenwriter.