In Moviefone's "Snow White and the Huntsman" Unscripted,
Charlize Theron told her co-star
"You can do whatever you want. You know why? Because it's Unscripted and you're f*****g Kristen Stewart."
Now it seems the star has taken that sentiment to heart. Stewart
In the July issue of Vanity Fair
, Stewart eviscerates those critical of her red-carpet poses: "I don't care about the voracious, starving sh-t eaters who want to turn truth into sh-t."
Well then! The star explained that the politics of navigating celebrity status never did come naturally to her.
"You can Google my name and one of the first things that comes up is images of me sitting on my front porch smoking a pipe with my ex-boyfriend and my dog. It was [taken] the day ["Twilight"] came out. I was no one. I was a kid. I had just turned 18. In [the tabloids] the next day it was like I was a delinquent slimy idiot, whereas I'm kind of a weirdo, creative Valley Girl who smokes pot. Big deal. But that changed my daily life instantly. I didn't go out in my underwear anymore."
Stewart eschews fairytale stereotypes in her current hit, the updated version of "Snow White." Here, she plays a warrior/beauty who's on a mission to destroy the Evil Queen. The film beat out "Men in Black 3"
at the box office this past weekend, raking in $56 million
.
K-Stew and her "Twlight" beau Robert Pattinson were also honored this week with the
MTV Movie Award for Best Kiss
for "Bearking Dawn, Part 1."
For more,
click over to Vanity Fair
.
PHOTO: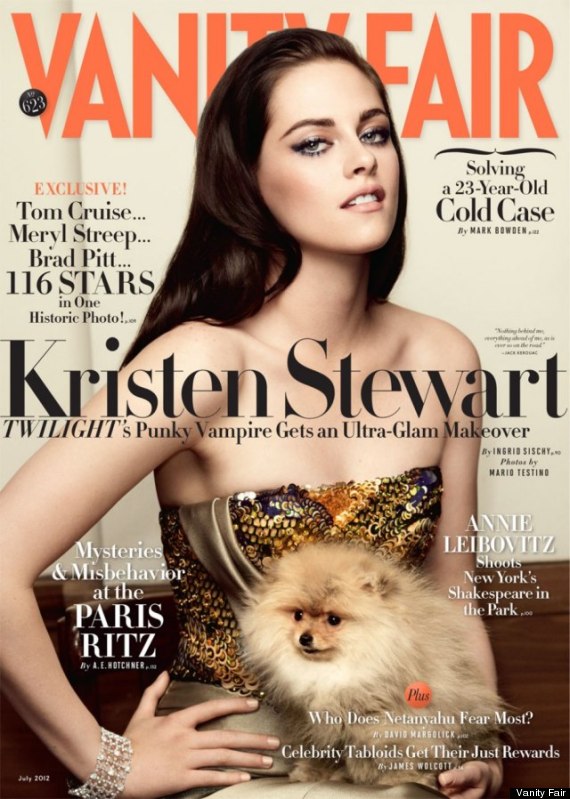 [via
Vanity Fair
]
%VIRTUAL-MtGallery-236SLIDEEXPAND--228265%