Though
"Brave,"
the latest animated feature from Pixar, hits theaters this weekend, there's already been a whirlwind of discussion surrounding the movie's impact. Why? Because it's Pixar's first film to feature a female lead: the independently-minded Princess Merida of Scotland, a fiery redhead who argues with her parents because they expect her to follow tradition and find a suitor as soon as possible. Instead, she decides to control her own fate, inadvertently sending her on a magical adventure involving mythic bears of folklore.
Pixar movies have become a summer tradition at the box office, but how will this new cinematic endeavor play to the masses? Let's find out in this week's Pro-Con.
(MILD SPOILERS FOLLOW)PRO:
"Brave" is a simple fairy-tale adventure that appeals to young audiences. The humor is youthfully cute, the pace is refreshingly brisk and the adventure is imaginative and straightforward. This is Pixar's spin on a classic fairy tale, and rather than totally subvert that, they stick to the formula while infusing it with Pixar-patented characterization. This isn't a bad thing.
CON:
Critics are trying to hold it up against past Pixar landmarks. If you're expecting something as deep as the first ten minutes of "Up" or the last ten minutes of "Toy Story 3," you're not going to get it. "Brave" isn't aiming for the same emotional targets; its focus is more childlike, as opposed to profound and slightly wistful. If you try to compare "Brave" to the collective weight of something it's not, rather than judging it on its own terms, you're going to be disappointed.
PRO:
Pixar has made the actual story of the movie a surprise. The trailers are deliberately vague and don't reveal the crux of the plot. However, it's not a twisty-turny premise full of surprises; the filmmakers just kept the advertising vague because the movie benefits from an audience free of preconceived notions and are willing to embrace the plot in whatever direction it unfolds.
PRO:
The Animation Outside of the "Toy Story" series, Pixar has shied away from depicting humans in CGI animation, but they've made great technological leaps forward on this project, giving each character a unique and expressive presentation. On top of the wonderful "acting" from the cartoon characters, the world of "Brave" is a lush and richly detailed portrait of the Scottish Highlands.
CON:
The 3D Hollywood keeps making us pay for the "enhancement," and it's still not living up to the price. In a movie that uses a dark color palette -- filled with pine trees, stormy night skies and shadow-filled caves -- the 3D just muddles up the screen and turns it into a murky distraction. Please see it in 2D.
PRO:
It's great for mothers and daughters. This movie is for all ages, but the interplay between Merida and her mother, Queen Elinor, will be especially enjoyable to audience members who can relate to the conflicts between a doting parent and a headstrong child.
One warning: Some scenes involving monstrous bears might be too scary for your littlest tykes
CON:
Behind-the-scenes trouble "Brave" was initially conceived by
Brenda Chapman
, making her Pixar's first female director, but "creative differences" led her to leave the project. Though she's still credited as co-director, and remains on staff at Pixar, it leaves a bittersweet tinge to the production (which is especially ironic, given the subject matter).
PRO:
The voice cast is wonderful.
Kelly Macdonald
("No Country for Old Men") brings an adorable feistiness to Princess Merida. And as her overprotective parents,
Emma Thompson
and
Billy Connolly
are lively and sweet. Key supporting parts (voiced by the likes of
Craig Ferguson
and "Rome's"
Kevin McKidd
) are given great moments to shine, too.
CON:
You may struggle to understand through an accent The Scottish accents are authentic and charming, but definitely thick. (Although, "Brave" sometimes uses that trait for comedic effect.) If you're the kind of audience member who complains about people "talkin' funny," then you're going to be annoyed that Pixar didn't strip this movie of its cultural heritage, merely for your convenience.
PRO:
Merida's younger brothers.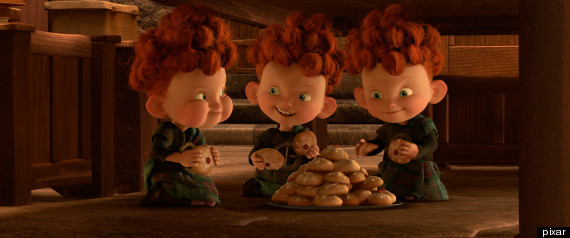 - The red-headed triplets Harris, Hubert and Hamish are definite slapstick show-stealers, and ridiculously cute to boot.
PRO:
Princess Merida is a great role model for young girls. There's been a school of thought that criticizes the Disney Princesses for having no greater goal than finding a husband, but Merida's romantic escapades are a non-factor in this film. She's a fallible, yet resourceful, young adult that: 1.) makes mistakes and learns from them 2.) Fights with her parents, but cares about them and 3.) Takes on challenges because it's the right thing to do.
CON:
Disney is still making a ton of Barbie Doll-style merchandise.
Eh, what do you expect?
PRO:
"La Luna"
"Brave" is preceded by "La Luna," perhaps the most beautiful and elegant short film that Pixar has ever created. We don't want to spoil what it's about, but it's an exquisite and magical little fantasy.
CON:
"Luna" didn't win the Oscar for Best Animated Short No offense to "The Fantastic Flying Books of Mr. Morris Lessmore,"
but we still don't understand why "Luna" didn't receive a statue from the Academy, this past February.
%VIRTUAL-MtGallery-236SLIDEEXPAND--233918%
Brave
Merida (Kelly Macdonald), the impetuous but courageous daughter of Scottish King Fergus (Billy Connolly)... Read More