We stood in the line-ups and wound our way through the circuitous halls of The Metro Toronto Convention Centre to bring you all the key highlights and happenings from Fan Expo Canada 2012.
Stan Lee, The King
On Thursday, the convention kicked off in style. Marvel's charismatic Chairman Emeritus, Stan Lee, was introduced as only he could be, with his mighty sign-off, "Excelsior!"
Moments later, he captivated the audience with his trademark wit and winking ego: "Did I tell you why "The Avengers" made so much money?" he asked, baiting us all. "They made my cameo very brief and they put it at the end of the movie, where some people were apt not to see it. So, if somebody misses my cameo, what does he or she do? They go and buy another ticket and sit through the movie again because they don't want to miss it. So, I figure that half of the sales of "The Avengers" were due to me." He also promised that his cameo in "Iron Man 3" will be his funniest one yet.
He also revealed why Marvel is more scientifically advanced than their rivals at DC: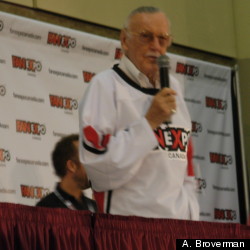 "Now, Superman can fly," he began. "How does he fly? He has no visible means of propulsion. Marvel is a lot more scientific. When I wanted Thor to fly, I had him wrap a leather thong between the hammer and his wrists and he twirls the hammer like a propeller, as only a thunder god can, and then he lets go of the hammer. Well, the hammer goes flying off, but he's attached to it at the wrist, so he goes with it. A valid scientific explanation."
"Stars"-Crossed Lovers
Wedding bells were ringing on Friday as uber-fans Robert Bridges and Amy Banman became Mr. and Mrs. Bridges. It was your typical wedding ceremony with more than a few atypical accents. The bride entered after a procession of Storm Troopers and Bounty Hunters to the Imperial March, which quickly dissolved into Bryan Adams, Rod Stewart and Sting singing 'All for Love.' When the pastor asked if anyone knew any reason why the two should not be wed, he told those in attendance, including family and friends "To speak now or forever hold their peace -- and their Kryptonite."
He punctuated his words on the sanctity of marriage with that famous line from "Spider-Man": "Today I empower you to keep these covenants and build a home of love and peace because with great power, comes great responsibility." He then presented the newly-minted couple with the parting words, "May the force be with you!"
Getting Candid With Geordi And Gimli
Later,
LeVar Burton
lead an appreciative audience in the theme song from "Reading Rainbow" and explained why an iPad app is the new place you'll find the show. "It's the multi-tasking, wired generation. So, in order to have impact on education going forward, it was absolutely essential to be where the future generations of kids are going to be." The actor also announced he will be returning to "Community" and announced that CBS called last Friday, asking about his availability for a return to "The Big Bang Theory."
John Rhys-Davies
is primarily known as Gimli in "The Lord of the Rings" trilogy and Sallah in the "Indiana Jones" films, but all everybody at his panel really wanted to know was why he got fired from "Sliders."
He had this to say: "'Sliders' is still an open wound to me. It could've been the Fox Network's 'Star Trek' franchise. We could've gone anywhere in space and we could've gone anywhere in time, but we ended up just copying everybody else's show. We did 'Tremors,' we did 'Night of the Living Dead,' and we even used the same masks that they got from 'The Island of Doctor Moreau.'"
The end came, he said, when he went into the writer's room and they were all poaching premises from the DVD release of 'Species' to put into a script.
"There was a memorable exchange where someone said, 'John, all we want you to do is be the bad scientist from 'Lost in Space,' to which he responded: 'Well guys, listen, if you want the bad scientist from 'Lost in Space,' why don't you employ him? I'm happy to go. Science is too important to me and too important to this country and clearly, there's certainly no scientific mind working on this show.' In the end, there's no cure for stupid!"
Fan Expo runs from August 23-26 in Toronto at the Metro Toronto Convention Centre.
%VIRTUAL-MtGallery-236SLIDEEXPAND--238346%