Movie taglines tend to traffic in the absurd (see:
"A Good Day to Die Hard"
). However, the newest poster for "Zero Dark Thirty" seems to get it just right, by referring to its story as "The Greatest Manhunt in History."
From Oscar-winning director Kathryn Bigelow,
"Zero Dark Thirty"
follows, yes, the greatest manhunt in history, as navy seals look to track down, and kill, the world's most-wanted terrorist, Osama bin Laden. The film is based on the true story of SEAL Team Six and the exhaustive, world-wide manhunt that took place in the days leading up to bin Laden's death.
"Zero Dark Thirty" has already gained steam as a rumored Oscar nominee, with potential award noms for Best Picture, Director, Screenplay and Actress (Jessica Chastain). Today, Moviefone, along with
our sister site Huffington Post Entertainment
, is proud to debut the newest poster from the film, which you can see in full below.
"Zero Dark Thirty," starring Chastain, Chris Pratt, Mark Strong and Joel Edgerton, hits theaters in limited release on December 19, and nationwide on January 13, 2013.
RELATED: First Trailer For Osama bin Laden Film "Zero Dark Thirty"
[Click to zoom]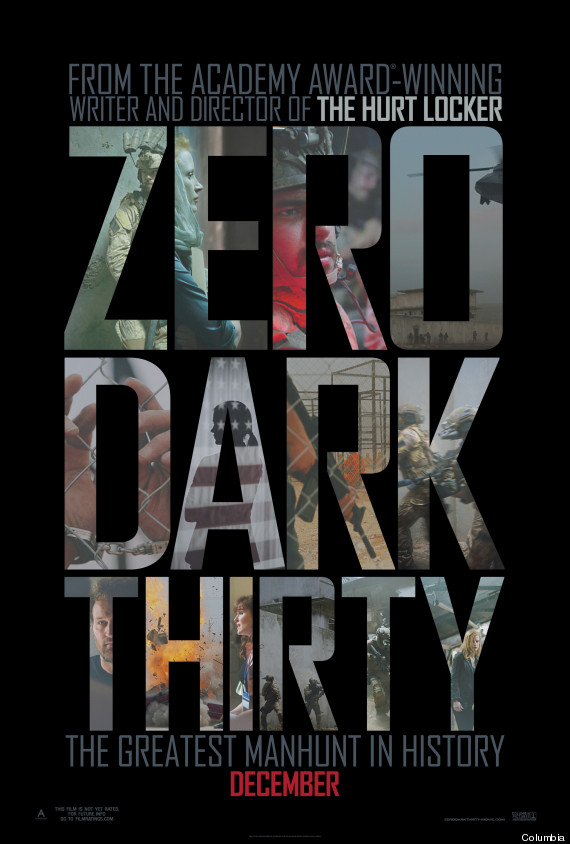 %VIRTUAL-MtGallery-236SLIDEEXPAND--261619%
Zero Dark Thirty
Following the terrorist attacks of Sept. 11, 2001, Osama bin Laden becomes one of the most-wanted men... Read More