Welcome back for another installment from Brady Riann, Moviefone's teenage correspondent. You'll get reviews and insights into the world of film -- from a teenage perspective. (This piece contains spoilers)
There are three types of movie fan: 1.) the type that love the Oscars no matter what, 2.) the type that care but aren't sure why, and 3.) people who hate the Oscars. I fall in the "not sure why I care" category. Maybe it's because every year whatever I think should be nominated doesn't get nominated, or what I think should win doesn't.
My question is why are the Academy members constantly playing it safe? I see films every year that blow most nominees out of the water but they're always unnoticed by the Academy. I've decided to look at this year's slate of Academy competitors and break down the movies and performances that will probably be the safe, predictable winners -- and then acknowledge the nominees that truly took risks and raised the bar for movie-making (and also shine a spotlight on the cinematic highlights that were too daring to even get nominated).
BEST PICTUREThe Safe Pick: "Argo"
It has an interesting story: it's a movie-in-a-movie (call it "Cineception") that makes Hollywood look good. And it also makes an audience member feel like they know something that most of the world doesn't know. But I'm sorry, this movie really wasn't all that great. I forgot every character's name within five minutes of being introduced to them. How do you make a Best Picture nominee and not get nominated for Best Director? I have a hunch that if George Clooney directed it as planned, he would have been nominated for Best Director. Affleck is a really good director -- "Gone Baby Gone" was a masterpiece -- but this is his weakest movie so far.
The Risky Pick: "Beasts of the Southern Wild"
No money, people who have never acted in their lives, and the youngest actress to be nominated in history. People, this is truly the best film nominated. This film looks like it had a big budget, the actors make it look easy, and the direction is like that of a more-entertaining Terrence Malick. Not only should it win, but people who really want to make great films should be shown this and be told, "This is what you can do with two credit cards and dedicated people." But alas, it doesn't glorify Hollywood.
Too Risky to Be Nominated: "The Master"
Paul Thomas Anderson movies aren't available on a conveyor belt. There isn't a new one when you want it the most. But when it does come along, you're glad you had to wait. "The Master" is a movie a lot of people can relate to for many different reasons: needing acceptance, alcohol issues, the one that got away. Freddie Quell isn't as simple as we all would like to believe. And neither is this film. Not only does it boast originality but its bound to shock you to your core. Not to mention it's one of the most beautifully shot movies I've ever seen.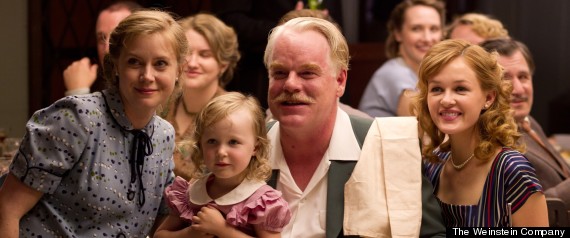 BEST DIRECTOR The Safe Picks: Steven Spielberg for "Lincoln" or Michael Haneke for "Amour"
Steven is an Academy darling, but I personally didn't care much for "Lincoln" (It's about as slow moving as a stage play). The reason he is the safe pick is because people are just saying, "Give him another one." Most people look at him as a god among men and go into his work thinking, "I know this film will be great because it's Spielberg." We all seem to forget something like "Kingdom of the Crystal Skull." I like Spiel, I really do. I just think that it is too easy to give him the award. As for why Haneke could win: because he's a foreign filmmaker (Yeah, that's my answer.)
The Risky Pick: Benh Zeitlin for "Beasts of the Southern Wild"
This guy is so young, but he successfully captures an extreme amount of emotion from people who haven't even acted before. He maxed out three credit cards to make this movie, and a lot of that money went towards a set truck. And when that blew up, he used it as the boat that we see Hushpuppy ride around the Bathtub. He is innovative, and made a great film on a low, low budget. He damn well deserves it and I'm ready for more.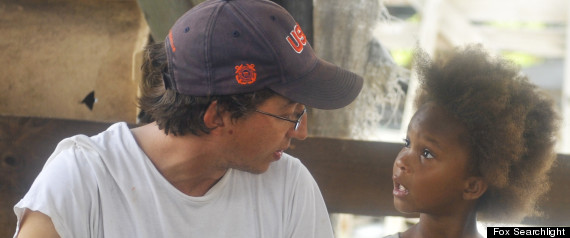 Too Risky to Be Nominated: Paul Thomas Anderson for "The Master"
When a person like Paul Thomas Anderson directs a movie you know that it's going to be important. He gets the best out of every actor or actress that are in his films -- this is the only person I have seen get a great performance out of Adam Sandler. It's not a surprise that it happens again in "The Master" with Joaquin giving a powerhouse performance. He was robbed for "There Will Be Blood" and the blasted Academy is at it again.
ACTOR IN A LEADING ROLEThe Safe Pick: Daniel Day Lewis for "Lincoln"
When I walked into "Lincoln," I was expecting to see exactly what I saw: Daniel Day Lewis do something great. He does deserve the recognition he has gotten; the way he prepares for a movie is nothing short of astounding (like learning to throw knives with deadly accuracy in "Gangsters of New York"). But he's playing a historical icon and a good man. I would say the race belongs to him just based on the person he's playing. I don't think it would have mattered who played the part -- Lincoln would have won the award.
The Risky Pick: Joaquin Phoenix for "The Master"
I felt the pain for Freddie Quell because Phoenix took being crazy to a whole new level. "Crazy" may even be an understatement. That character will never be in another film again. Phoenix is really a master of his craft; right from the "sand woman" scene, to an interview of questions that make you raise your brow, Phoenix keeps you on the edge of your seat and even cringing over the things that Quell does. That means he's doing something right.
Too Risky to Be Nominated: Mathew McConaughey for "Killer Joe" and Brad Pitt for "Killing them Softly"
As a cinephile, I've been trying to find a movie that disturbs me to my core. And when I found, "Killer Joe" I had never been so thrilled. So much about the film was disturbing, but the one thing that stuck with me the most was an impressive performance by McConaughey. The way he handles a family of trailer park trash made me smile, cringe and leave my eyes wide open. It may not be his performance so much as the film itself, as the reason he's not nominated. But this film shows us that the man has chops. If he continues to get rolls like this it won't be long before he is sitting in the spotlight. "And the winner is, Mathew McConaughey." I like the sound of that.
As for Pitt: I can hear you calling me foul names already. Get off me friend, "Killing them Softly" is a film to remember. Pitt makes this one a true gangster flick, and even what I would call, "The manliest movie based in reality." And I stand by that. This movie is the no-nonsense hitman movie that I've been waiting for. ("No Country for Old Men" is like this but I don't consider Anton to be its main character.) As for Pitt, I didn't even remember that Brad was playing a character in a movie; he
became
Jackie Cogan.
ACTRESS IN A LEADING ROLEThe Safe Pick: Jessica Chastain for, "Zero Dark Thirty"
Now you listen here, I'm probably Chastain's biggest fan. There is nothing to not like about her: she's gorgeous, she's an amazing actress and she's incredibly humble. But I believe anybody could have played this role and gotten the same recognition. It's not even so much that she was bad in "Zero Dark thirty," it's just that it's not her best film. The subject matter is the reason why the movie is praised so much. Chastain did a much better job in last year's "The Tree of Life" as the way of grace.
The Risky Pick: Quvenzhane Wallis for "Beasts of the Southern Wild"
Wow, just wow. The youngest girl in the history of the Oscars. This film was nothing but great, and Wallis was the best part. The way she delivers dialogue so naturally makes me smile. She got the reaction out of audiences that she needed. If people weren't saying, "Awwww" during this movie then you clearly have no soul. I laughed, I cried, I feared what would happen next thanks to the young actresses' performance. But the sad truth is she can't win this award because of her age. I'm sure the Academy believes the she'll have many more chances to win.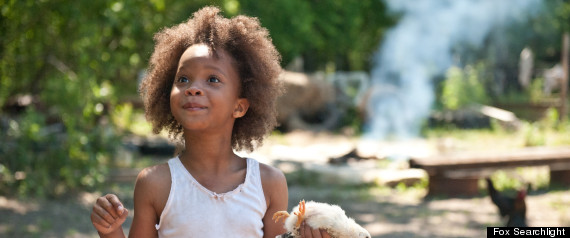 ACTOR IN A SUPPORTING ROLEThe Safe Pick: Robert De Niro for "Silver Linings Playbook"
He's Robert De Niro. Need I say more? People have a pre-conceived idea that he is the best and always will be. He will win because he's just being himself in the movie, and the Academy seems to think that's something special. He's done amazing work I will say, but Bradley Cooper carried this whole cast on his back. Bradley Cooper is like De Niro in that regard; occasionally he'll be placed in something where he actually gets to do something different (like "Silver Linings"), but most of the time, he'll just be himself.
The Risky Pick: Phillip Seymour Hoffman for "The Master"
He"s painfully original in all his performances. But the movie's subject is a touchy one, especially because of it's supposed connection with Scientology. And the Academy just can't give somebody an award for doing something that could tarnish their reputation (
ahem... Mr. Cruise
). So why not give it to De Niro, who does nothing offensive or pushes the envelope in any way so that the good image of the Academy can stay in tact?
Too Risky to Be Nominated: Sam Rockwell for "Seven Pyschopaths"
When you take a performance like this one and put it under a microscope, it's not as simple as you think it is. Rockwell truly is a psycho! Comedy always seems to get the short end of the stick when it comes to the Academy Awards. Which is really stupid when you think about it because Seth MacFarlane is hosting the show, and Rockwell was funnier in this one movie then most of the things that Seth MacFarlane has ever done. There are almost too many quotable scenes in the film and they almost all come from Rockwell.
ACTRESS IN A SUPPORTING ROLEThe Safe Pick: Anne Hathaway for "Les Miserables"
She doesn't do anything risky in the film, it's a simple performance. And it's 10 minutes of screen time that was only a little better than the rest of the movie. Every minute of her as Catwoman was more fun and more impressive than all of "Les Mis."
The Risky Pick: Amy Adams for "The Master"
The literary erotica reading scene should be enough. She was willing to go pretty far for this role. She got a genuine reaction out of me like none of the other nominees did: I loved her and in the end I loathed her. She was doing what she was supposed to. But again, the film has caused too much controversy. (I also firmly believe that Joaquin has ruined the chances of everybody from "The Master" by talking about how awful the Oscars are.)
BEST CINEMATOGRAPHYThe Safe Pick: Caludio Miranda for "Life of Pi"
It was shot in 3D and it had one cool flying fish sequence, but the rest of the movie was all in the same spot.
The Risky Pick: Robert Richardson for "Django Unchained"
This movie looks beautiful, from the opening to the end. The visuals were stunning, I was always engaged no matter what. But most of those shots are over-the-top blood and guts; it can be overkill. EVEN SO, he should win for the flower shot alone. (If you've seen the movie you know exactly what I"m talking about.)
Too Risky to Be Nominated: Mihai Malaimare Jr. for "The Master"
Every single shot was a little slice of heaven. Especially a very interesting moment where Phoenix runs down a hall and into a cornfield. You get a feeling that the walls are closing in, that he won't be able to get away. And then a door opens and light seems so blinding, and that's when you know that the real journey is about to begin. The story is as much told by visuals as it is by the actors. And sometimes visuals are all you need.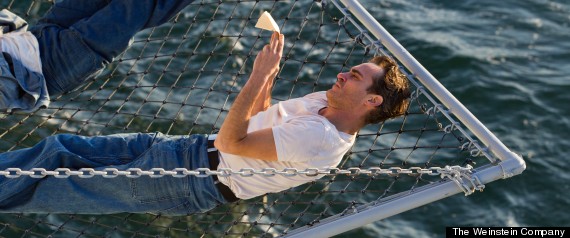 BEST ORIGINAL SCREENPLAYThe Safe Pick:
Quentin Tarantino for "Django Unchained" Its brilliant...but it's not as brilliant as what was written before they started production.
The Risky Pick: Roman Coppola and Wes Anderson for "Moonrise Kingdom"
It warmed my heart; I had to stay at the theater and watch it again because it was so great. Only Wes Anderson writes movies as weird and fun as this film. (Plus the Coppola family will be in the film business forever -- and for good reason.)
Too Risky to Be Nominated: Paul Thomas Anderson for "The Master"
Haven't I basically been through this half a million times? "The Master" blew everything out of the water, end of story.
BEST ADAPTED SCREENPLAY The Safe Pick: Chris Terrio for "Argo"
The same reasons the film will win Best Picture..."Cineception."
The Risky Pick: Benh Zeitlin and Lucy Alibar for "Beasts of the Southern Wild"
No matter how many times I watch this film and no matter how much time has gone by since the last time I watched it, "Beasts" will always look and feel like a brand new experience to me... but it has nothing to do with a fake science-fiction movie.
If you're waiting for the Oscars to be over so you know what movie to see before all others -- don't bother. Take this small piece of advice: go out, and see every single Best Picture nominee other than the one that wins. Then after you've seen them all, watch the one that wins. I did this in 2011 and found myself believing that "Inception" and "The Social Network" were worlds better than "The King's Speech." And honestly it would have been super cool to see "Toy Story 3" win. But then again that all sounds a little risky to me.