In "
The Incredible Burt Wonderstone
,"
Steve Carell
sports an impressive head of hair -- and equally impressive chest hair -- as a faded Vegas magician who has a falling-out with his longtime partner, Anton Marvelton (
Steve Buscemi
), and faces stiff competition from an extreme Criss Angel-like street magician (
Jim Carrey
).
In January, Moviefone was invited to the set to see Carell and Buscemi in action. The duo played out a scene in which their female assistant quits and
Olivia Wilde
's character is reluctantly recruited mid-act to take her place. As anyone who's seen the closing credits of "Date Night" knows, Carell likes to do numerous takes, so he and Buscemi did the scene over and over (and over) again.
Then, in resplendent, red-velvet costume, Carell took a break to talk to reporters and revealed his anxiety about casting
James Gandolfini
and Buscemi, how his chest-baring outfit made him feel "extremely sexy," and the key ingredient to "Wonderstone" that may or may not have been stolen from
Tina Fey
.
Moviefone: You did a stunt 100 feet off the ground on the very first day of shooting. Was that scary?Steve Carell:
It was a little bit scary. It takes time to get used to being up that high. It wasn't so much the height as the fact that the bottom is Plexiglass and you could look down 50, 60, 70 feet. There's something disconcerting about that. I know at the Grand Canyon they have that Plexiglass walkway that you can look down. I think some of the casinos [in Las Vegas] have the same type of thing. If you have a fear of heights, it's a little disconcerting. After a while, though, you get used to it. Like anything, you start to trust it.
RELATED:
'The Incredible Burt Wonderstone' Preview: A Look At The New Steve Carell Comedy (PHOTOS)
What was the inspiration for this costume? Was it Siegfried and Roy?
I know [costume designer Dayna Pink] liked the velvet and she liked the colors. She thought the rhinestones would really pick up the light on stage. I don't think it's necessarily a Siegfried and Roy look. That might be the archetype that people will go to but it's more of an '80s or '90s costume that this character thinks never went out of style. I think the character thinks it makes him look sexy. That's why he's still in it after all these years.
How do you feel in it?
Extremely sexy. My agent came today and she couldn't keep her eyes off me. She's seeing a completely new person. I wear it on weekends. I wear it to my wife's delight.
How long have you been looking to wear your own necklaces in a movie?
Finally! Finally, I get to wear some of my own. I actually don't own any gold-colored jewelry so it's extremely odd to be wearing anything gold, let alone 18 pounds of gold. But it changes the way you feel. Wearing this much jewelry definitely changes how you carry yourself as well as the open-chested, tight pants look of it all
You seem to improvise a lot of your lines Buscemi.
There's been a lot of play and a lot of invention. It's always great because you get it as scripted and that's always of value. But you never know what else you're going to find if you have time to play a little bit and see what else is out there. Steve Buscemi is hilarious. He's really, really good with improv. It's fun to go back and work with him.
What made you think of Buscemi for this part?
The part has a sort of innocence and a naivete. He's very kind and a very generous soul. He's a great actor, apart from anything else. He could play every part in this movie and be fantastic at it. But he just seemed exactly right. And man, is he funny. He's just so good. He's real. He makes very specific and clean choices. I'm a huge admirer.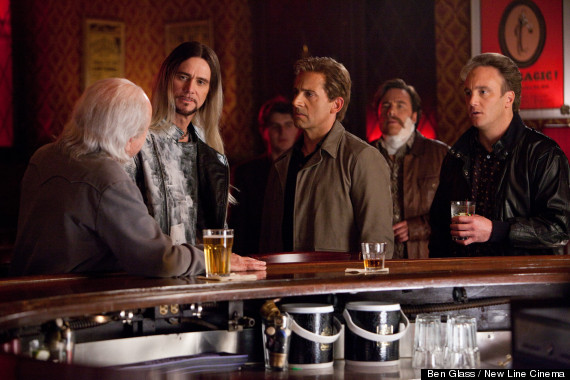 What about playing off Jim Carrey?
Oh my gosh. Talk about a fertile mind. That guy could do fifty takes and they could all be completely different. It really is an abundance of riches. You don't know which one to choose because [each] one is just different and equally funny. He supplies you with so many different variations. It's sort of an editor's dream. He's completely committed, too. He was doing things -- physical things -- that didn't seem human to me and he was doing them in a practical manner with no special effects. It was all him. It was all just his own commitment to the part.
As a producer, did you have the ability to sort of skip over traditional channels and just call James Gandolfini to ask him if he wanted to do it?
No, we went through all the channels. It's not like I have James Gandolfini on speed dial. It's fun, though, because there's all these people that I idolize and respect. Alan Arkin, as far as I'm concerned, I always want to be in movies with him. This is the third time I've been able to [do a film with him]. I am, frankly, always looking for opportunities to work with him. He's the greatest guy ever and one of my idols.
You look at someone like Steve Buscemi or James Gandolfini, and they're just people I admire so highly. I would be too nervous to call them on the phone and say, "Hey, you want to be in this movie?" You just sort of cross your fingers and hope they like the script. When they did, I remember seeing Steve for the first time. He was so giddy about it. He couldn't wait. They actually postponed "Boardwalk Empire" by a couple of weeks so that he could fit it all in his shooting schedule. He was really, really committed to doing it. I just had the best time.
What's it like working with veteran "30 Rock" director Don Scardino, who's making his feature debut with "Wonderstone"?
He sets the tone completely. Everybody loves him and everybody respects him. That comes from his sense of respect for everybody else. The cast and the crew. Everybody. He creates a really positive, fun environment. He knows what he wants. He has a great eye. He's very efficient. He's good. He knows how to move things along and make his day. He's great. He's just fun. He's incredibly positive. He came in Friday and had watched a bunch of footage and was just so ebullient. He was glowing about what he'd seen so far. He was so happy. It's pervasive. You really feel how genuine he is.
What did Tina [Fey] tell you about him?
I emailed her and said, "What's your take on Don? You know him." She said, "Don is the best." And I think she was mad that we stole him. He is, though. He's doing the best job.