You may not know the name
Ariana Richards
, but odds are you've seen her before, as a young girl screaming in an overturned SUV while a tyrannosaurus rex came barreling down from above.
At the age of 12, Richards was cast in Steven Spielberg's 1993 blockbuster
"Jurassic Park"
as Lex, a girl who visits her grandfather's new dinosaur-inhabited theme park.
This week, audiences get to hear Richards push her vocal chords to their limits once again on the big screen, as "JP" hits theaters in 3D, 20 years after its release. While she now spends most of her time as an artist (you can see her work
here
), Richards looks back fondly on her "Jurassic Park" days.
Richards spoke to us about filming "Jurassic Park," keeping in touch with Spielberg (she calls him Steven), taking a spin on the "Jurassic Park" ride at Universal Studios, and her first acting credit,
on "The Golden Girls."
You shot this film 20 years ago. Is it weird that you're still being asked to talk about it?
You know, I actually can't believe it's already been 20 years. It's amazing. Time really went fast. "Jurassic" is a legacy and a classic. Steven Spielberg created something pretty spectacular. It's actually really interesting, when I look at it, I ask "How has my life changed since being Lex?" And I can literally walk into just about any city in the world and people will know who I am. They've enjoyed the movie and feel like they know me because they had this shared experience of going through "Jurassic" with my character and surviving.
Was it alarming when everyone immediately started recognizing you?
Yeah, filming it was such a blast in so many ways, especially being a child actor in that situation. I wasn't even aware or thinking about the future -- how it would be taken, whether would it be a big blockbuster -- I was just enjoying the process. Then, when it all happened like it did, I would say it was a surprise for me to get that much attention.
Do you remember the first time that happened?
I don't have a first time that sticks out in my memory. But I do remember doing a lot of great traveling for premieres of "Jurassic Park" when it was first coming out, and getting to visit some pretty spectacular places, like when the cast and Steven and I went to London for a premiere where I got to meet Princess Diana. That was pretty special.
What was going through your head when Steven cast you?
I went into his office after taking a break from my trip to Disneyland. I was going with my mom and sister. Of course, we put that on hold for a few hours once we got that phone call to go see Steven, and I went to meet him in his office. He put me right at ease. He was really warm and funny and easygoing. Actually, in the meeting itself, he surprised me. He offered me the job right then and there. He said, "Ariana, are you busy this summer?" Of course I knew what to say.
You were 12. That seems like it would be a difficult age to be immortalized on screen. Do you find it difficult to watch now?
I don't have a problem watching it. It just brings back neat memories when I see it every so often. It's true, age 12 to 13 is an interesting age to be immortalized in. But it's also kind of fun. It's kind of in between childhood and adulthood. It was neat that Steven gave me an interesting role, where even at that young age it can be kind of awkward for a girl. It was a really powerful role for a girl, where I got to save the day and have all this knowledge about computers.
In the book, the roles of Lex and Tim are reversed -- he's the older sibling and computer nerd.
Exactly. I had read the book and I was aware of that when I saw the script and the changes there, which I was happy to see. I didn't have to play some spoiled little brat sister who was just kind of annoying. It added some meat to my character.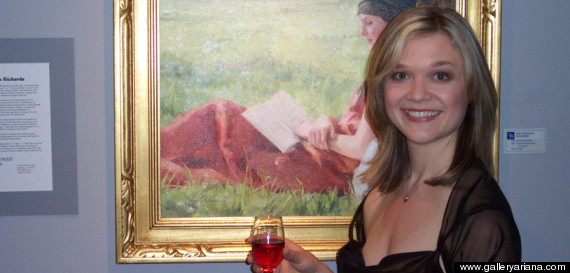 "Jurassic Park" star Ariana Richards is now an artist
Have you kept in touch with Steven over the years?
I have, actually. I am really happy to have that friendship and be able to keep in touch. It's great. Of course he's a genius, but he's also a pretty spectacular person.
I read that you had made a watercolor for him while on set that showed you holding the spoon full of Jell-O, with the velociraptor in the background.
That's right! [laughs]
Have you created any other "Jurassic Park"-inspired art?
That's a really good question. That was
the
"Jurassic" piece that I created shortly after the movie. I haven't created one since then. I figured that that was the one that boiled down my entire experience into a graphic expression.
Random question: Have you ridden the "Jurassic Park" ride at Universal Studios?
[Laughs] Of course! I was there for the opening. It was a really fun day. I was there with Joey, Jeff Goldblum, General [Norman] Schwarzkopf, and Steven was there, too. However, Steven is always allowed to get off the ride early. I don't think he's ever gone down the whole ride, as far as I know.
Now "Jurassic Park 4" is on the move. Do you have any interest in being in it?
You know, that is all about seeing a script. I have not seen a script for it yet, so I would need to see one before I actually say anything.
Before I let you go, I had to ask about your role on "The Golden Girls."
Oh my gosh, that is going way back in time. That was my first real acting job. I was six years old. I was so little. I had this high little voice, and I played one of Rose's babysitting charges. I still remember we had some sort of newspaper hats that were folded and put on our heads as we paraded around on set.
I remember liking Betty White a lot. It was one of those things as a little child actress, you get inspired by experienced actresses and actresses that reach out to you. There's a cute story: I went over to her dressing room to ask her, "Hey, Betty, can I get a picture with you?" And she opened the door and she had her hair full of rollers. I said, "It's fine, I can wait until later." And she said, "Oh no! Let's get the picture!"
"Jurassic Park 3D" hits theaters April 5.