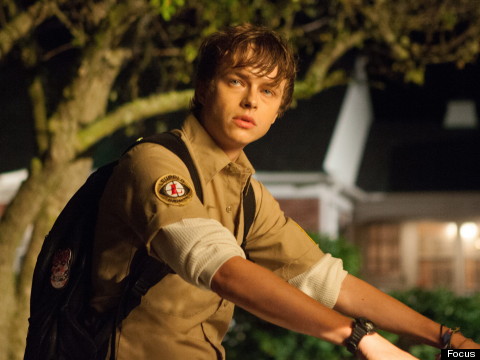 Ryan Gosling
certainly casts a long shadow. That made casting his son a daunting task for
The Place Beyond the Pines
director Derek Cianfrance
. After all, any believable spawn of Gosling's would have to have a certain intangible "it" factor, wouldn't he?
Luckily, Cianfrance found
Dane DeHaan
, who bears a striking physical resemblance to Gosling and, perhaps more importantly, effortlessly captures the shy, brooding essence Gosling projects in many of his films, including this one. Those of you who didn't catch
Pines
on the festival circuit are likely wondering why a 27-year-old is playing Gosling's son, when young Gosling is just 32 himself. There's a simple explanation for that:
Pines
is a multi-generational tale told in three sections that span decades. Also, DeHaan plays a teenager. Quite convincingly, too, with his slight frame, youthful complexion and self-conscious mannerisms.
Gosling carries the first third of the flick, and co-star Bradley Cooper steps in to carry the middle chunk. The third section follows the two characters' sons, which means Cianfrance was also faced with casting Cooper's son. Emory Cohen, perhaps best known for playing Leo on
Smash
, landed the role.
While he's good as Cooper's beefy, meat-head son, you don't look at Cohen and think "Wow, the likeness is uncanny" as you do with DeHaan and Gosling. But that's OK. We can't expect lightning to strike twice. (Though I wouldn't be surprised to see Gosling and DeHaan share the screen again, perhaps as brothers.)
DeHaan is a particularly impressive find, since he was relatively unknown before Cianfrance cast him in
Pines
(though he was quite charismatic in
Chronicle
). It's not like there was a known Gosling doppelganger out there, just waiting to be cast. While we're on the subject of known Hollywood doppelgangers, I'm still waiting for the day when Brad Pitt plays Robert Redford's son. Sure, they teamed up for
Spy Game
, but not as a father/son duo. I would love to see Jennifer Aniston play Barbra Streisand's daughter, too. I thought Aniston's Harper's Bazaar photo shoot styled as Streisand may have been foreshadowing an announcement that they'd be sharing the screen, but alas, that hasn't materialized as of yet.
Instead of longing for what hasn't happened, though, now seems like a good time to acknowledge some well-cast parent/child duos that have happened. Here's a list of the top five most appropriate parent/child pairings on the big screen. (
Warning:
there's one spoiler in there, so if you haven't seen
Crazy, Stupid, Love
yet you may not want to read on.)
1. Adam Sandler and Andy Samberg in That's My Boy.
OK, so this one stretches the realm of the believable a tad, since the two actors are just 12 years apart in age. But they share so many qualities, I was willing to look past that. (Plus there was an amusing subplot to explain the age thing.) Both Sandler and Samberg are incredibly funny, instantly likable and they have the rare ability to balance silliness with heart.
2. Julianne Moore and Emma Stone in Crazy, Stupid, Love.
This mother/daughter plotline may have been even less believable than
That's My Boy
's, but that's OK. I totally buy Moore and Stone as mother and daughter. Their similarities stretch well beyond their trademark red hair and porcelain skin. Both are warm and quick-witted, with a wry sense of humour.
3. Jodie Foster and Kristen Stewart in Panic Room.
Even though K-Stew was just a wee child way back in 2002 when Panic Room came out, she was totally believable as Foster's child. The two actresses sported the same ugly bob for the flick (though neither 'do was as unsightly as Jared Leto's cornrows), which reinforced their physical similarities. Both are quite good at projecting vulnerability and strength simultaneously -- no easy feat.
4. Sean Connery and Harrison Ford in Indiana Jones.
Like Sandler and Samberg, Connery and Ford are just 12 years apart in age. But really, could you imagine anyone else as the senior Mr. Jones? The role of Indy's Dad had to go to a larger-than-life actor. After all, it would take an exceptional man to produce an intrepid adventurer like Indiana Jones! I can't think of anyone better-suited for the role than Connery. He and Ford may not share many physical characteristics, but you'd be hard-pressed to come up with another two actors who can do "stubborn hot-headed genius" better than these guys.
5. Anjelica Huston and Christina Ricci in The Addams Family.
Huston and Ricci were perfect as the dark matriarch Morticia and her brooding daughter Wednesday. They both pulled off the superficial aspects the roles called for very well, including the raven hair, the pasty complexions and the black wardrobes. But their connection extended beyond that. You could easily see Ricci's Wednesday blossoming into Huston's Morticia one day. (After overcoming all of that pre-teen angst and embracing Morticia's zest for the dark life, of course.)
The Place Beyond the Pines opens in theatres on April 12.


%VIRTUAL-MtGallery-236SLIDEEXPAND--288696%