Although
James Cromwell
("Babe") has probably become more well-known in the past year from his stint on "American Horror Story: Asylum" as a psychotic ex-Nazi doctor, the Oscar nominee took on a very serious and heartfelt role in Toronto Film Festival drama "Still Mine," which co-stars fellow Oscar nom
Genevieve Bujold
("Anne of the Thousand Days"). (The film was known as "
Still
" during its run at TIFF.)
Director
Michael McGowan
's "Still Mine" is a love story about an 89-year-old man who faces off against the government when he decides to build a final home for himself and his wife, whose health is beginning to fade. Based on a true story and laced with wry humour, the film centres on Craig Morrison (Cromwell) and Irene (Bujold), who live on the Fundy coast in St. Martins, New Brunswick. Married for over six decades, the couple has spent all that time in the same house. But with the structure needing serious repairs and with Irene showing signs of dementia, it's only a matter of time before their home will be unsuitable. Craig has always provided for his family by working his land, and sees no reason to stop now. So he decides to build a new house himself, just the way his father, a shipbuilder, taught him.
But times have changed. Craig quickly gets on the wrong side of an overzealous government inspector, who finds just about everything unacceptable, including the wood that Craig has milled from his own trees. As Irene becomes increasingly ill - and amidst a series of stop-work orders - Craig races to finish the house. Hauled into court and facing jail, Craig takes a final stance.
Mongrel Media (the film company responsible for the film's release in Canada) has given Moviefone Canada an exclusive photo still from the movie before its release on May 3, 2013 in Toronto and Vancouver. It will open to all Canadian markets on May 10.
PHOTO: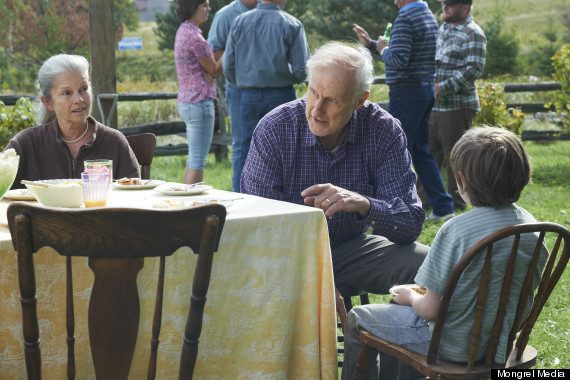 For the full-sized image, click
here
.
%VIRTUAL-MtGallery-236SLIDEEXPAND--250803%