The recent decision to revamp the image of Merida, the young Scottish heroine of Pixar's
"Brave,"
into a glamorous Disney princess
has faced harsh backlash
, and now the character's creator is also speaking out against the change.
Brenda Chapman, who wrote and co-directed "Brave" and took home an Academy Award and Golden Globe for her efforts, sent a scathing response to the decision to her hometown newspaper, the Marin Independent Journal. Chapman, who modeled Merida on her then-middle school-aged daughter, called the makeover "atrocious" and "a blatantly sexist marketing move based on money."
The uproar comes over multiple changes to the character's image: her long, unruly red curls have been made fuller and sleeker, her waist is noticeably smaller, her dress now exposes her shoulders, and her eyes and lips have been enhanced with makeup. In some promo stills of her new look, she's no longer holding her signature bow and arrow.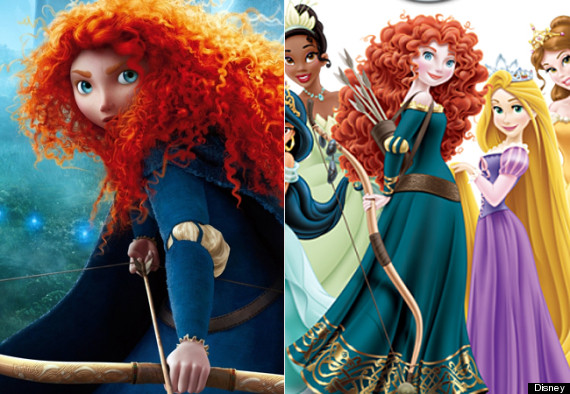 Changing an innocent-looking girl into an apparent sex symbol is "irresponsible" and "appalling for women and young girls," Chapman wrote to the paper. " ... When little girls say they like [the makeover] because it's more sparkly, that's all fine and good but, subconsciously, they are soaking in the sexy 'come hither' look and the skinny aspect of the new version. It's horrible! Merida was created to break that mold -- to give young girls a better, stronger role model, a more attainable role model, something of substance, not just a pretty face that waits around for romance."
Chapman went on to note that Merida's original image was already a proven seller for Disney -- "Brave" went on to gross more than $550 million -- and while the studio had the chance "to give their consumers something of more substance and quality ... they have a total disregard for it in the name of their narrow minded view of what will make money."
In response to Chapman's outrage, Disney cited many of the same qualities that Chapman touted in its decision to crown Merida its newest princess.
"Merida exemplifies what it means to be a Disney Princess through being brave, passionate, and confident and she remains the same strong and determined Merida from the movie whose inner qualities have inspired moms and daughters around the world," the statement said.
Disney held an official coronation ceremony for Merida this weekend at Walt Disney World.
[via
Marin Independent Journal
]
Brave
Merida (Kelly Macdonald), the impetuous but courageous daughter of Scottish King Fergus (Billy Connolly)... Read More