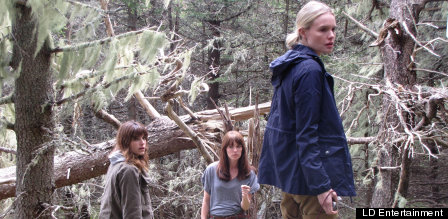 Much has been written about how often Judd Apatow collaborates with his wife, actress Leslie Mann. But why should they get all the ink when there are plenty of other Hollywood couples who manage to work quite well together, too?
Take actress/director Katie Aselton and her prolific writer/director/producer husband Mark Duplass, for instance. (Duplaselton, if you will, as inspired by Aselton's Twitter handle
@duplaselton
.) The two co-star on the hilarious FX comedy
The League
. And most recently, they teamed up on
Black Rock
, a thriller hitting select theaters this week. The two wrote it together, and Aselton helmed the director's chair and shared the screen with Lake Bell and Kate Bosworth.
The spooky script follows three childhood friends, played by Aselton, Bell and Bosworth, who embark on a girls' getaway that goes very awry. Like, scary horror-worthy awry, not just bitchy cat-fight awry.
Clearly Duplass has no qualms about working with family. In addition to working with Aselton, he frequently collaborates with his brother, Jay. The two have co-directed several films together, including
Cyrus
and
Jeff Who Lives at Home
. They also play the hilarious "
midwives with attitude
" on
The Mindy Project
.
Duplaselton's frequent collaborations have inspired me to compile a list of other noteworthy significant others who make good movies together. Here are five couples who have produced great work:
1. Jared and Jerusha Hess (Napoleon Dynamite, Nacho Libre).
This dynamic duo first shot to fame when
Napoleon Dynamite
, the flick they co-wrote, became a cult fave. So how do they do it without bickering? They have a surefire way to solve any creative differences that may arise. "It's just so easy with Jared because I know him. If I don't like his idea, I can tell him to sleep on the couch," the lady Hess
quipped to Collider
.
2. Zoe Kazan and Paul Dano (Ruby Sparks).
Screenwriter/actress Kazan couldn't help but think of her actor boyfriend Dano as she was writing the script for
Ruby Sparks
, a story about a writer (played by Dano) whose fictional love interest comes to life (played by Kazan). After the two moved into a tiny New York apartment, Kazan was "wondering if I was now defined by this person I was living with. We were in a serious relationship before but here was this new step, and I think I felt claustrophobic. There's a lot of what I was feeling at that moment in the film," she
told The Guardian
.
3. Jennifer Westfeldt and Jon Hamm (Friends With Kids).
Everyone wants a piece of hunky Hamm, including his screenwriter/director/actress partner, Westfeldt. She
told Marie Claire
that the two savored the extra time they had together while filming
Friends With Kids
, Westfeldt's project that Hamm co-starred in. "We've had so much chaos with
Mad Men
, Jon's incredible fame, and flying back and forth just to spend 36 hours together, that this was the most day-in, day-out interaction we've had in a while. It was great."
4. Jonathan Dayton and Valerie Faris (Little Miss Sunshine, Ruby Sparks).
Kazan and Dano weren't the only couple working on
Ruby Sparks
. Longtime collaborators (and spouses) Dayton and Faris co-directed the movie. Bouncing ideas off of each other helps them overcome creative roadblocks. "So often we'll be stuck on something and one of us will say something, and having that back and forth can sometimes get a problem dislodged," she
told Film School Rejects
.
5. Roma Downey and Mark Burnett (The Bible).
Actress/producer Downey and super-producer Burnett spent four years pouring their hearts and souls into
The Bible
, the epic mini-series they made for History. Instead of driving each other crazy, the intense experience brought them closer together,
Burnett told me
. "We actually have become better buddies and more in love over the last four years. I never thought that could be possible," he said.
Black Rock opens in theaters on May 17.