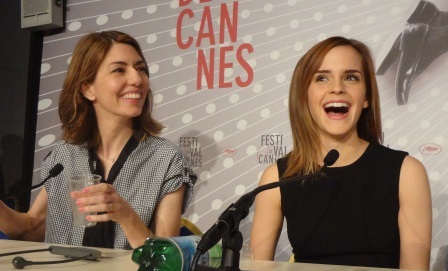 It is not the first time that we are privy to Sofia Coppola's obsession with conspicuous consumption--take her previous film
Marie Antoinette
--but her new film
The Bling Ring
has materialism as its very subject, to the point that consumer goods are filmed as much as the stars. In
Marie Antoinette
, the camera indulged shots of ruffled gowns, pearl earrings, yellow pumps, and strawberry cake, while telling the story of the lonely young queen. Here in
The Bling Ring
, based on the true story of a group of teenagers who robbed celebrity homes in Los Angeles a few years back, we have little psychology and a smorgasbord of brand name objects: Gucci sunglasses, Herve Leger gowns, Montblanc watches, and purses by Marc Jacobs, Louis Vuitton and Birkin.
The plot is simple. A charming Asian-American teenager lures a besotted boy to help her break into a millionaire's home where she rapidly pockets a few items, to the boy's dismay ("Hey let's get out of here!" he pipes). Like an addiction, more "shopping splurge" heists soon follow. The mod Bonnie and Clyde, sporting the ultra-cool sunglasses of their exploits, expand to a group of teenagers who cruise into the homes of celebrities: Orlando Bloom, Lindsay Lohan, Megan Fox. Simple internet research reveals when the stars are out of town and where they live.
The film becomes a repetitive journey into celebrity homes, including eight forays into that of Paris Hilton. What entertains us here, besides the chance to enter Paris Hilton's actual home ("that was a highlight!" quipped actress Emma Watson who plays one of the thieves), are Coppola's visual "rap" songs on the fetishized goods. We have lingering shots on Paris Hilton's collection of color-coordinated shoes laid out like pastries on a production line; close-ups of drawers cluttered with jewels; panning shots of dresses in the closet, also color coordinated, including an absurd quantity of beige sequinned tunics that all look kind of the same.
"The world we are showing is definitely one of excess," Sofia Coppola said deadpan, speaking to journalists after the premiere. Dressed discretely in a silk checkered blouse and black shirt, and unassuming pumps, Coppola showed no little disdain for the fame-clinging world she is depicting. "Achieving celebrity is so much part of our culture," she said, noting that Facebook and social media abet this phenomenon.
In other films, like
Virgin Suicides
and
Marie Antoinette,
Coppola seems to identify with her alienated lost-in-consumption female characters.
But not in this one.
"The only character I empathize with," she said firmly. "Is the boy. The girls are not very sympathetic." In fact, one reservation she had making this film was that she "did not want to add to [the girls'] celebrity."
The lack of empathy is apparent in the film. None of the girl characters in the film have much going on inside. They laugh and screech as they pillage the homes, or try on the new dresses, thrilled by their material contact with fame. "Your belt is awesome!" is about the extent of the dialogue. The boy continuously (at least one time too many) says "Let's get the fuck out of here."
Coppola confided that what interests her about her subject is the same issue in her other films: "Identity. People finding their place." Yet she was quick to add that "while
Virgin Suicides
was an innocent time, in this film, there is no innocence." Similarly, while
Marie Antoinette
and
The Bling Ring
both show "the same world of decadence," the Bling Ring world "is not so beautiful."
Sofia Coppola definitely does not approve of the Bling Ring.
"Not even their adolescent joy?" I asked. Some of the best shots are of the girls driving down the LA streets, dancing in their seats, windows open, dressed to celebrity-kill, and screaming out into the night: shots that made me nostalgic for high school.
"Sure there's excitement in that abandon. But I don't think what they are doing is positive."
The question remains whether this disturbing foray into emptiness is itself a positive experience. Watching the film is like getting lost in a funny house of glittering mirrors.
But perhaps the merit of this film lies in its very lightness. We have a New Age wacky mother who wakes the thieving girls up in the morning with a spiritual prayer inspired from T
he Secret.
, one that ends comically with
And So It Is
, the mother's version of Amen. Another humorous moment: the girls resist the urge to steal Paris Hilton's ludicrous dog, as "that would be easily noticed".
It is also a pleasure to watch the sprightly Emma Watson, much more fetching, I would say, in person than on screen. Her dynamic laugh--repeated often and unexpectedly in the press conference--steals the show, and who cares what she steals.
My only quibble with the meaningless of the film was when it actually tried to be meaningful, at the end, with oblique moral pronouncements about the girls' vacuity. The greatest punishment for girls like this, the film suggests cruelly, is that they are all forced to wear the same prison garb.
As for what the movie leaves us with: it is perhaps more interesting as a glimpse into Sofia Coppola--and what she must have felt growing up in the celebrity world--than into the Bling Ring. These girls remain opaque to us, but Coppola's own sense of oppression by this world is haunting.
Coppola refused to say anything about it, when asked by a fellow journalist.
"Let my movie speak for itself," she said, very clear about her boundaries of private and public.
But--pressing on---did Sofia know these kinds of dreadful girls herself when she was in high school?
"Well I knew girls who were bullies, and who wanted to fit in."
But there were other kinds of girls too, she noted. Teenagers have a choice when it comes to materialistic values. "They can resist through culture and education." They
can
be deep.
One more question for Ms. Coppola. In her films, the "house" has a primordial presence. It is a protected sanctuary that protects the individual. It is also that which other people want to invade, whether the surburban home of
Virgin Suicides,
or Marie Antoinette's Versailles, or--in this film--Paris Hilton's opulent monstrosity.
What do houses mean to her?
"I guess they are about privacy and identity," Sofia Coppola said. "The home is the place of the person."
As I left the conference, a fellow journalist muttered that this was the fourth interview she has had with Sofia Coppola where she did not like to open up.
Or be broken into.