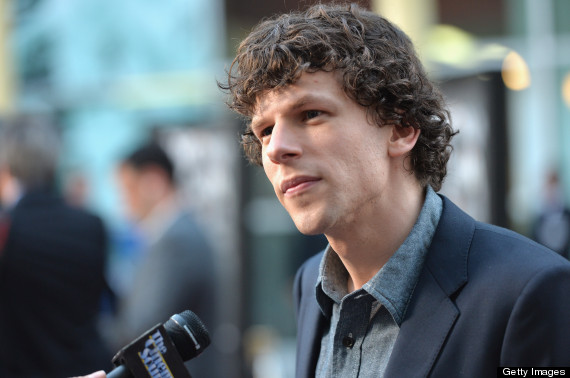 Remember when people kept mixing
Jesse Eisenberg
up with
Michael Cera
? There was a time when both were impossibly cute, somewhat neurotic up-and-coming young actors who made geeks cool again. For a while, Cera appeared to be the one whose star was on the rise. He had a lot going for him: he played the adorable George Michael on the much-loved series
Arrested Development
, and he parlayed that into success on the big screen with starring roles in two hugely successful flicks:
Juno
and
Superbad
. Meanwhile, Eisenberg's career has had more of a slow and steady build. He had a breakout role in Noah Baumbach's 2005 film
The Squid and the Whale
, in which he played a teen who struggles when his parents (Jeff Daniels and Laura Linney) announce that they're splitting up. Eisenberg's unique knack for quick-fire dialogue earned him higher profile roles in movies like
Adventureland
,
Zombieland
and, of course, the movie that put him on the map in a major way:
The Social Network
. Eisenberg demonstrated that he can do much more than just play neurotic nice guys -- he can play neurotic, egomaniacal jackasses, too. His latest character, magician Daniel Atlas in the new release
Now You See Me
, definitely falls into the latter camp. Atlas is a brash, arrogant womanizer, and Eisenberg totally pulls it off. It's too bad he doesn't get more screen time, though. In the little we see of him, Atlas comes off as a one-dimensional caricature. If he had the chance to expand the character, Eisenberg certainly could have brought more depth to the role and made the film more engaging. What's most interesting about his role in
Now You See Me
, though, is the company that he's in. Eisenberg is co-headlining the ensemble flick with the likes of Morgan Freeman, Michael Caine, Woody Harrelson, Mark Ruffalo and Isla Fisher. He's in the big leagues now! So what's the secret to Eisenberg's staying power? Your guess is as good as mine. But he does seem to reliably choose interesting roles, and he's done an excellent job of proving he's capable of much more than just playing the same neurotic nice guy character over and over. In
Zombieland
, for instance, he showcases his action skills and shotgun prowess while dodging zombies, romancing Emma Stone and exchanging barbs with Woody Harrelson. In
30 Minutes or Less
, he demonstrates his impressive comedic timing, and holds his own opposite the hilarious Aziz Ansari -- no easy feat.
The Social Network
flung him into the mainstream. His thoughtful, multifaceted portrayal of Facebook founder Mark Zuckerberg earned him an Oscar nod for best actor and endless accolades from critics and audiences alike. Part of his ascent into leading man territory can probably be attributed to the fact that he's grown into a pretty handsome man with a strong, enviable jaw and a mop of great hair. Just sayin'. Cera, who is arguably still pigeonholed as a neurotic nice guy, seemingly tried to shake his goody two-shoes image by playing a badass in
Youth in Revolt
. It didn't work out for him as well as
The Social Network
did for Eisenberg, but he's going to take another stab at it by playing a douchey version of himself in the June release
This is the End
, alongside James Franco and Seth Rogen. It's interesting to see Eisenberg and Cera both in the spotlight at the same time again. Now that Eisenberg has established himself as a bona fide "movie star" while Cera remains in the "up-and-coming" category, the comparisons just might start to peter out. I, for one, certainly hope there are plenty of roles for both of them. Cuz really, you can never have too many adorable nerds in Hollywood.