 During N.W.A.'s brief existence, the group and its members made a career out of being underestimated. A quarter century later, the underdog rappers have been underestimated again, even by the studio releasing their victory-lap biopic.
Going into the weekend, Universal's predictions for "Straight Outta Compton" were modest, projecting a debut of about $25 to $30 million. Granted, studios routinely lowball such estimates so that everyone can be pleasantly surprised if the movie surpasses them, or at least not disappointed if it doesn't. But even the more optimistic industry insiders who predicted an opening weekend of $40 million turned out to be way off, since "Compton" actually opened with an estimated $56.1 million.
That's an impressive number for a release with no movie stars, in the depths of August, with a hard R-rating, a running time of two-and-a-half hours, and a theater count below 2,800 venues. ("The Man From UNCLE" opened on nearly 900 more screens, its 3,638 theater count standard for a summer action blockbuster-hopeful, and yet it did less than a fourth as much business as "Compton.") All of those should have counted as strikes against "Compton," so how did the film become a smash well beyond the most optimistic projections? Here are some of the ingredients of the film's success.
1. Very Strong Reviews
Critics have been mostly kind to "Compton" (its Rotten Tomatoes score stands at 88 percent, while its Metacritic reviews are 72 percent favorable). Word-of-mouth has been even stronger, with the film earning an A grade at CinemaScore. To the extent that the movie needed to win over older viewers -- particularly those old enough to remember N.W.A. from its heyday more than a quarter-century ago -- those positive notices matter.
2. Weak Competition "UNCLE" was the only other wide release this weekend, and it underperformed even its modest expectations (predictions ran near $19 million), opening in third place with an estimated $13.5 million. The three-week-old "Mission: Impossible: Rogue Nation" fared better, earning an estimated $17.0 million.
In retrospect, it's hard to imagine how Warner Bros. expected to score with a franchise-launcher based on a 50-year-old TV spy series that no one in the target demographic could be expected to remember with fondness -- or at all. Director Guy Ritchie does excel at this sort of action picture, and reviews were good (not great), but anyone who wanted to watch an action thriller based on a half-century-old Cold War spy show could go see "Mission: Impossible," which not only is better-known now as a well-established present-day franchise, but also stars Tom Cruise.
"UNCLE" couldn't boast that kind of star power. Sure, Henry Cavill played Superman in "Man of Steel," and yet he's still not a household name. And "Lone Ranger" star Armie Hammer is Hollywood's equivalent of "fetch" -- the industry keeps trying to make him happen. He's not going to happen.
3. Personal Branding "Compton" had even less star power than "UNCLE," but even audiences too young to remember N.W.A. know the rap group's co-founders, Ice Cube and Dr. Dre. They're still dependable entertainment brand names, and their oversight of this project lends it credibility. (It doesn't hurt that Cube is played in the film by his own son, O'Shea Jackson Jr., essentially a living extension of Cube's personal brand.)
Don't forget about the brand-name filmmakers behind the camera, either. Director F. Gary Gray (pictured above) is a 20-year Hollywood veteran, whose association with Cube goes all the way back to Cube's 1990s music videos and the beloved 1995 cult comedy "Friday," which helped transform the rapper-actor's screen persona from scowling menace into non-threatening comic straight man.
And then there's executive producer Will Packer, who's shown a knack over the past five years for making crossover hits out of low-budget movies with predominantly black casts (often comedies starring Kevin Hart, though he also made the hit "Ride Along" with both Cube and Hart). At a reported $29 million, "Compton" has an unusually high budget for a Packer production (most cost less than $20 million; only action thriller "Takers," cost more at $32 million), and yet it's clear that Packer has managed to wring the maximum entertainment value from what is still, by Hollywood summer movie standards, a meager budget.
Packer's not a household name, but his name in the credits is also a stamp of reliability.
4.Clever Marketing
Universal's marketing team is certainly on a roll, having helped make hits of four other huge movies this summer, from "Trainwreck" to "Jurassic World." (Only "Ted 2" has been a misfire.) "Compton" had the benefit of an especially viral online campaign that included the meme generator that allowed all your Twitter friends to make their own "Straight Outta..." album cover. (Even Bette Midler got into the act.) So there was no escaping awareness of the film.
5.Something for Everyone
You might expect an R-rated movie about rappers known for their misogyny (both in its lyrics and offstage behavior) to have little appeal for younger ticketbuyers or women. But "Compton" proved to be a draw for almost everyone. In fact, exit polls showed that, while audiences were almost evenly split between men and women, and between viewers over and under 30, there was actually a slight edge for female moviegoers (52 percent) and under-30 audiences (51 percent). But how did that happen? Well...
6. Smart Scheduling
Opening the film in mid-August was wise; all the other major summer releases are out of the way. There's also the notion that August is no longer a wasteland. Recent August releases "The Help" and "Lee Daniels' The Butler" have proved that the dog days of summer are actually a good time to release serious movies (like, awards-contender serious) that appeal to both men and women, and to older and younger audiences. Not coincidentally, they're also historical dramas about the struggles of black people in America. And that leads, in turn, to...
7.Relevance
Sadly, the #BlackLivesMatter movement has made "Compton" especially timely. It can't be lost on viewers that the kind of police harassment the film's characters faced and turned into songs three decades ago is still common enough today to be debated on cable news and to inspire protests and activism.
In that sense, "Compton" isn't a nostalgia piece at all. No wonder younger viewers have flocked to see it.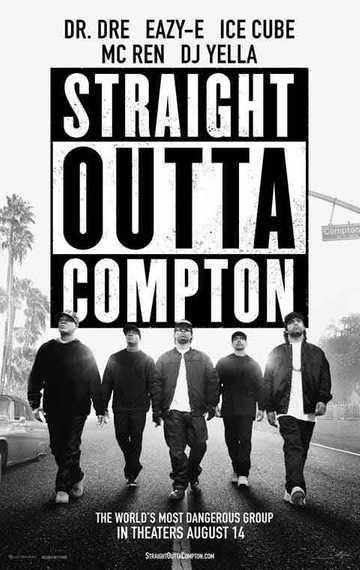 Straight Outta Compton
In 1987, five young men, using brutally honest rhymes and hardcore beats, put their frustration and anger about life in the most dangerous place in America into the most powerful weapon they had: their... Read More