 Sure, it's hard to guess which movies will be big enough draws to pull people away from their living rooms on Super Bowl weekend. But the studios were wrong about nearly every new offering this weekend, and so were the box office analysts.
The only new release that performed as expected was the Coen Brothers' period Hollywood spoof "Hail, Caesar!", debuting in second place with an estimated $11.4 million. That's pretty weak, even for filmmakers as cultish as the Coens. Yet it was still far better than this weekend's other new wide releases, "The Choice" and "Pride and Prejudice and Zombies" -- both of which opened well below expectations. It's enough to make you wonder if moviegoers have lost interest in both Nicholas Sparks and zombies. Sparks, the novelist whose tearjerking romances have been adapted into such hits as "The Notebook," used to be one of Hollywood's most reliable brands, generating 11 movies over the past 17 years. His "Dear John" opened on Super Bowl weekend six years ago with $30.5 million and became his second biggest hit. So maybe it wasn't a big stretch to think "The Choice" would be smart "chick-flick" counterprogramming to this weekend's testosterone fest.
But Sparks' movies have been on a downward trend in recent years. 2014's "The Best of Me" and 2015's "The Longest Ride" were his lowest openers and lowest overall grossers -- until now. "Choice" premiered in fifth place with $6.1 million. Blame poor reviews and a lack of star power to attract audiences.
As for "Zombies," there was enough precedent behind it for pundits to place it on top of their predictions for the weekend, guessing it would take in at least $12 million. Seth Grahame-Smith's Jane Austen spoof had been a bestseller in 2009. Star Lily James' "Cinderella" was a female-audience hit around this time last year. The romantic comedy/zombie tale "Warm Bodies" did well on Super Bowl weekend three years ago, opening with $20.4 million toward an eventual $117.0 million worldwide gross. And women like both horror movies and Jane Austen. So, why did "Pride" fail to crack the top five, debuting with just an estimated $5.2 million, less than half of what experts predicted? Audiences didn't think much of it, giving it an underwhelming B- CinemaScore. And critics didn't think much of it either, with its 41 percent on Rotten Tomatoes. James isn't really a box office draw; the success of "Cinderella" owes less to the "Downton Abbey" alumna than to Disney's brand and marketing. Period horror also hasn't been as big a draw lately as studios had hoped -- (cough) "Crimson Peak."
Another factor worth noting is that competition from holdovers remained strong. "Kung Fu Panda 3" held the top spot ($21 million) and "The Revenant" topped $150 million in domestic earnings with a third place finish of $7.1 million. "Star Wars: The Force Awakens," in fourth place with an estimated $6.9 million, became the first movie to earn more than $900 million in North America and the third to earn more than $2 billion worldwide. All three of these holdovers saw modest declines of less than 50 percent from the previous weekend. All three also have strong guy appeal (though in the case of "Panda," the guys may be dads dragged to the cartoon by their kids). Which brings us to the other factor: maybe the idea of female-oriented counterprogramming on Super Bowl weekend is outdated. Aside from "Dear John," "Warm Bodies," and 2008's "Hannah Montana and Miley Cyrus: Best Of Both Worlds Concert Tour" (still the best Super Bowl weekend debut ever, at $31.1 million), there's not an extensive history of women-targeted films performing well opposite the Super Bowl.
Maybe more women enjoy football than Hollywood conventional wisdom believes. Even if not, it's almost never a good idea to open two films at once that are chasing the same audience. Given a choice between "The Choice" and "Zombies," it shouldn't be surprising that many women would choose the Broncos and Panthers instead.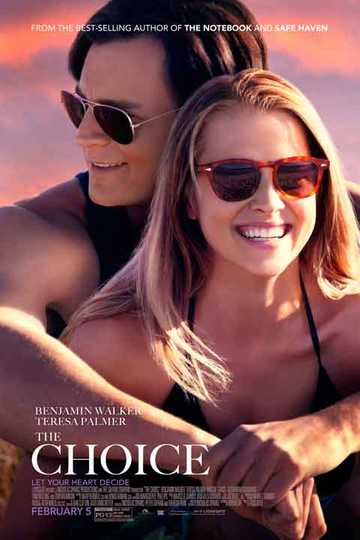 The Choice
Travis and Gabby first meet as neighbors in a small coastal town and wind up in a relationship that is tested by life's most defining events. Read More