 [SPOILER WARNING: Turn back now if you have yet to see the film and do not want to know anything about a key climatic scene. Still here? Okay, but -- ya been warned.]
Traditionally, odd-numbered "Star Trek" movies are bad. Like, searching-for-God bad. Protecting-an-alien-fountain-of-youth-while-struggling-with-Klingon-zits bad.
The Original Series" or "Next Generation" films. In this timeline, Kirk and Spock have different origins and now even-numbered "Treks" (ahem, "Star Trek Into Darkness") are of the not-good variety.
"Star Trek Beyond," the third nuTrek but 13th overall, continues this new tradition off having good odd-numbered films with the help of co-writer and Trekker Doug Jung (below, right). Jung and Simon Pegg had the unenviable task to write "Beyond" from January to June 2015, to ensure it would be ready in time for release during the franchise's 50th anniversary year. As huge fans of "Trek," alongside director Justin Lin, they had to do this while all packing in enough nods and references to the past to keep die-hard fans happy. But one of the film's better references, and more emotionally-resonate scenes, almost didn't happen.
"I just wasn't sure it would work the way we all intended," Jung said in a recent sit-down with Moviefone. The "It" in question involves this timeline's Spock (Zachary Quinto) inspecting the personal belongings of the now-deceased Spock Prime (Leonard Nimoy). The bittersweet scene will make you swear you're sitting too close to someone cutting onions, especially when Quinto's character finds a keepsake: A photo of the original Enterprise crew (taken from "Star Trek V") on the bridge of the Enterprise-A.
This marks the first time we've seen William Shatner's Kirk in the new film series -- along with the rest of the crew's original, older counterparts. The latter is what originally gave Jung pause.
"I remember there was a lot of discussion about should we do [this scene] or should we not. I resisted it at first, because, well -- I know a lot of fans want to see, like, Shatner and all that. But there's kind of a bit for me where it breaks a weird fourth wall in a way. And, you know, you're asking a lot of -- maybe not Trekkers -- but of casual fans to say: 'Wait. You're telling me [Chris Pine's Kirk] becomes [Shatner's Kirk]?' It can be a little jarring, I think." But all it took for Jung to have a change of heart was seeing the final product.
"I thought it was a really risky thing, until after talking with Justin and Simon on how to do it, and now it is one of my favorite bits in the whole movie."
Jung also remarked how important the scene is in terms of serving as the "final punctuation" for the arc of Quinto's Spock, who struggles throughout the film with how to deal with life and death upon receiving word that he, er, his other self has died. Moreover, the scene provided Jung and the filmmakers one of two moments to pay tribute to the late Nimoy -- who makes his third, and final, appearance in this new film series.
If critical reaction is any indication, "Beyond's" legacy -- and Spock's -- will live long and prosper.
"Star Trek Beyond" opens in theaters Friday.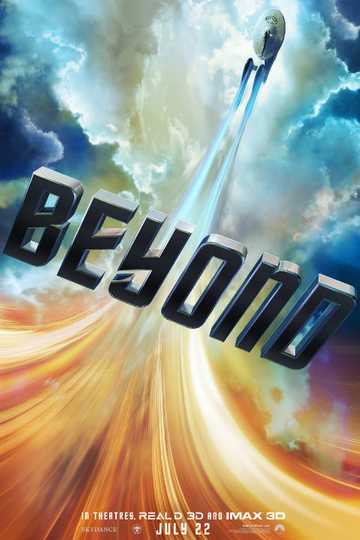 Star Trek Beyond
The USS Enterprise crew explores the furthest reaches of uncharted space, where they encounter a mysterious new enemy who puts them and everything the Federation stands for to the test. Read More