Rebecca Hall Confirms Marvel Sabotaged Her 'Iron Man 3' Role
It has to suck to sign on for a cool role in a Marvel superhero movie, only to see change after change reduce your part to a whisper of the original idea. That happened to Rebecca Hall in "Iron Man 3." You probably recall "Iron Man 3" writer/director Shane Black telling Uproxx that Hall's character, Dr. Maya Hansen, initially had a bigger role "and we reduced it." He said Marvel told him to nix the early draft plan for a female villain, because that idea wouldn't sell as well as a toy.
Hall confirmed the role reduction -- eagerly -- while promoting her movie "Christine" at the Toronto Film Festival.
"That's 100% true," she told the Toronto Sun. "I've been gagging to talk about it with someone, but I haven't had the opportunity, weirdly."
Well, spill that tea now!
"I signed on to do something that was a substantial role," Hall continued. "She wasn't entirely the villain – there have been several phases of this – but I signed on to do something very different to what I ended up doing. Halfway through shooting they were basically like, 'What would you think if you just got shot out of nowhere?' I was meant to be in the movie until the end... I grappled with them for a while and then I said, 'Well, you have to give me a decent death scene and you have to give me one more scene with Iron Man,' which Robert Downey Jr. supported me on." Hall said Marvel is "paying for their mistakes right now" but she applauded them for casting Brie Larson as Captain Marvel, the first woman to have her own solo standalone Marvel superhero movie. "Hallelujah," Hall said. "It's about time women started being the heroes of things. They can also be the anti-heroes of the things and that's what I feel I'm getting to do with 'Christine.'"
Good for her. And good for Marvel for being on a different path now. In that Uproxx interview, where Shane Black told all, he said they had to change the entire script because of toy making, but noted that it wasn't Marvel Studios honcho Kevin Feige's call, it was from Marvel corporate, and "now you don't have that problem anymore."
Want more stuff like this? Like us on Facebook.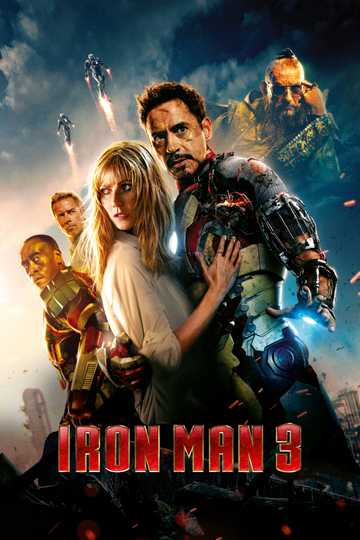 "Unleash the power behind the armor."
When Tony Stark's world is torn apart by a formidable terrorist called the Mandarin, he starts an odyssey of rebuilding and retribution. Read the Plot