 Is it "Two Weeks Notice" or "Two Weeks' Notice"? When you live in a world of oblivious billionaires and binge-eating activist lawyers, who cares?!
This week, we watched the Sandra Bullock / Hugh Grant rom-com, "Two Weeks Notice." Sure, the title is technically missing an apostrophe, but nothing is missing from the undeniable chemistry between the movie's stars. Among other topics discussed: too much Chinese food, diarrhea theme songs, mystery characters, and confusing AF circus parties. Maybe one day all the questions we have about this movie will be answered by its inevitable, completely unnecessary straight-to-Netflix sequel.
Tune in next week for Tony's pick: the 5% scientifically accurate "Timecop," starring Jean-Claude Van Damme, Mia Sara, and Ron Silver.
Listen to CAN'T WAIT! A Movie Lover's Podcast Episode 14: 'Two Weeks Notice'Total runtime: 55:27
Subscribe to the CAN'T WAIT! podcast:
Have thoughts/feelings/feedback about the podcast? Have a movie you really, really want us to watch and talk about? Hit us up on Facebook, Twitter, or Instagram with the hashtag #CANTWAIT.
CAN'T WAIT! A Movie Lover's Podcast by Moviefone celebrates Hollywood's guiltiest pleasures by taking a fresh look at critically ignored movies and giving them a second chance at life. Join Moviefone editors Tim Hayne, Rachel Horner, Phil Pirrello, and Tony Maccio as they extol the virtues and expose the failings (with love!) of nostalgic movies.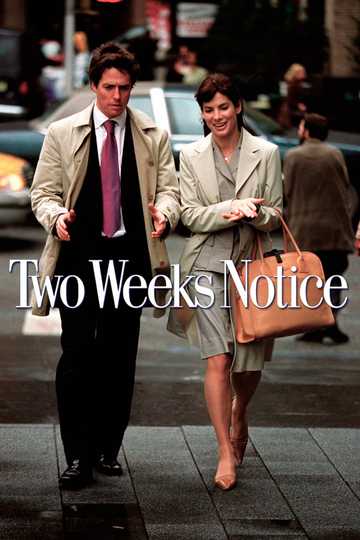 Two Weeks Notice
Dedicated environmental lawyer Lucy Kelson goes to work for billionaire George Wade as part of a deal to preserve a community center. Indecisive and weak-willed George grows dependent on Lucy's guidance... Read More